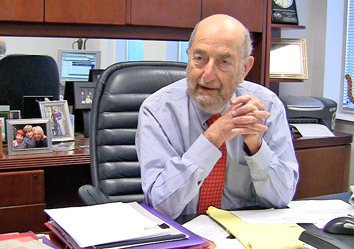 The children of deceased Celadon Group Inc. cofounder Steve Russell claim his second wife engineered changes to his will while he suffered from dementia, boosting the amount she would immediately inherit from his $31 million estate at their expense.
Jonathan Russell, Stewart Russell and Melissa Russell Rubel—his children from his first wife—filed a complaint in Hamilton County on Wednesday alleging that second wife Livia Russell exerted undue influence by orchestrating changes to Steve Russell's will on Aug. 24, 2015, eight months before his death at age 76.
The new will was signed two years after doctors examined Russell and noted brain damage and cognitive impairment, and just a few days before a neurologist said Russell could no longer function independently and had "no insight into his cognitive deficits."
The complaint alleges that Livia, aware of her husband's compromised mental state, arranged for changes to his will that would give her a much larger upfront payment upon his death—from $4 million to $9 million. The change effectively would divert millions of dollars from a trust benefiting Steve's children, the complaint charges.
Livia demanded and orchestrated changes to the will "whereby she was provided with millions of additional dollars from his estate outright, to her own benefit and the detriment of Stephen's biological children," the complaint says.
The children have asked Hamilton County Judge William J. Hughes to declare the will void.
The attorney for Steve Russell's children, Richard Smikle of Ice Miller LLP, declined to comment. Livia Russell's attorney, E. Davis Coots of Coots Henke & Wheeler PC, could not be reached for comment.
David Faust, an attorney with law firm Faust Oppenheim LLP in New York City, is listed in the 2015 will as personal representative, a role giving him oversight of the estate. The complaint says he was the architect of Russell's wills in 2005, 2008, 2013 and 2015. His attorney, Jack Hittle of Church Church Hittle & Antrim, was not available for comment.
During their marriage, Steve and Livia Russell were frequent donors and volunteers to local arts and not-for-profit organizations, including Herron High School, The Phoenix Theatre, Indianapolis Museum of Art and Second Helpings. They wed in 2001 and, that same year, entered into a prenuptial agreement that called for Livia to get one-third of his estate upon his death, according to the complaint.
Wills crafted in 2005 and 2008 reflected that, saying $4 million was to be distributed to Livia upfront with the remainder of her one-third share designated for a trust in her name. Upon her death, any remaining funds in her trust were to be divvied up among Steve's children. Jonathan Russell, an Indianapolis resident, is president of Celadon's logistics division. Stewart Russell lives in Connecticut, and Melissa Russell Rubel lives in Kansas.
Steve Russell, a New York City native who graduated from Cornell University, held leadership positions at Ford, RCA and Hertz before founding Celadon in 1985. It now is one of the nation's largest trucking companies, with about $1 billion in annual revenue and nearly 4,000 employees across the country. Russell served as the company's CEO and chairman for most of its existence, but relinquished the CEO role in 2012 and his chairmanship in 2015.
His children filed an objection to the 2015 will on the day Russell died, claiming he was not of sound mind when he signed it. They had until June 15 to detail their rationale, which they did in this week's complaint.
The complaint said Russell's cognitive decline began as early as 2010, when work colleagues and friends noticed impairments to his speech and motor skills. Among other incidents, he passed out at a January 2012 Celadon meeting, the complaint said.
"Sadly, Stephen's Ivy League mind, which allowed him to rise to president of Hertz and then venture out on his own where he grew a small trucking company into an international trucking juggernaut, deteriorated rapidly from that point on," according to the complaint.
The lawsuit alleges that one of his doctors, Martin Farlow of the IU Health Alzheimer Disease Center, opined that as of May 2, 2013, Steve Russell had "vascular cognitive impairment" and "very prominent short-term memory problems," so much so that "it is possible that he has Alzheimer's … ."
"As a result of these and his other medical conditions and physical ailments, Stephen became unable to provide for his own care, conduct his own financial affairs and otherwise function independently," the complaint claims.
In mid-2015, Livia Russell worked with Faust to create the 2015 will, according to the complaint. Although Livia purported to be acting on Steve's behalf, Faust should have known he was of unsound mind, according to the suit.
The 2005 and 2008 wills reflected the 2001 prenuptial agreement, which called for a marital trust that would benefit Livia Russell during her lifetime. That trust was to be funded with one-third of the value of his taxable estate, minus any other benefits she received as a result of his death, such as insurance proceeds.
Any assets remaining in that trust at the time of Livia's Russell's death would go to Steve's children.
The complaint said the 2008 will provided that Livia Russell would receive, among other things, a $4 million upfront distribution from her share of the estate upon his death. With Steve Russell's estate valued at $31.5 million at the time, her share would have been $10.5 million, with $6.5 million going to the marital trust.
According to the 2015 will, however, Livia, who is in her 60s, would receive either $9 million outright or 30 percent of the remainder of the estate.
"Under the Contested Will, Livia's $9 [million] outright devise was approximately 29 [percent] of Stephen's gross estate," the complaint said. That meant that only $1.5 million, at most, would pass to the marital trust set forth under the prenuptial agreement.
"Stephen's long standing estate plan had now been turned on its head," the complaint said. "No longer was a significant portion of Livia's inheritance going to a marital trust, which would potentially benefit Stephen's children via their remainder interest. Instead, nearly all of her increased benefit would be distributed to her outright, with only a minimal amount potentially held in the marital trust."
Three days after the signing of the 2015 will, Dr. Joanne Wojcieszek of the IU Health Alzheimer Disease Center reported that Livia Russell provided all the history about his condition because Steve was "not able to provide any of it whatsoever," according to the suit.
Please enable JavaScript to view this content.