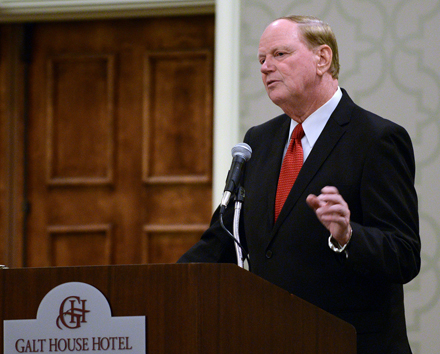 University of Louisville president James Ramsey is stepping down after 14 years in a massive shakeup of school leadership stemming from recent scandals.
Kentucky Gov. Matt Bevin announced Friday that he will disband the university's 17-member board and replace it with a 10-member board that he appoints. Ramsey, who has led the university for 14 years, submitted a letter saying he will offer his resignation to the newly appointed board.
Bevin says he met with Ramsey and both agreed the university needs a "fresh start."
Among the school's recent problems are an NCAA investigation of the basketball program related to an ex-coach arranging female escorts for players, and an FBI investigation of top university officials for alleged misuse of federal money.
The allegations involving escorts came to light last fall in the book "Breaking Cardinal Rules: Basketball and the Escort Queen" by former escort Katina Powell. In it, she claimed that former Louisville staffer Andre McGee paid her $10,000 for 22 shows from 2010-14 at the players' Billy Minardi Hall dormitory.
Powell's book was published by IBJ Book Publishing LLC, a sister company of Indianapolis Business Journal. Investigative reporter and Pulitzer Prize winner Dick Cady co-authored the book.
Investigations by the NCAA, University of Louisville, local prosecutors and others immediately followed the revelations McGee was put on paid leave by the University of Missouri at Kansas City, where he was then an assistant coach, and later resigned his post, although he denied the accusations.
In February, Ramsey said that an investigation by the school revealed that some violations did occur.
Louisville has announced several self-imposed sanctions as it awaits the outcome of the NCAA investigation, such as reducing scholarships for the 2017-19 seasons and restricting official recruiting visits and recruiting opportunities for staff.
Men's basketball coach Rick Pitino has maintained that he didn't know about the shows.
This story will be updated.
Please enable JavaScript to view this content.