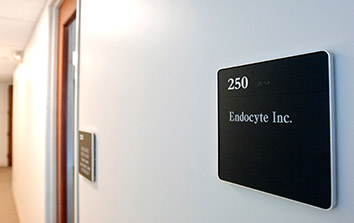 Ron Ellis, the founding CEO of Endocyte Inc., an Indiana biotech company that has struggled in its goal to develop "smart drugs" to fight cancer, has resigned.
The West Lafayette-based company has named Mike Sherman as new CEO and president, but did not give a reason for the abrupt change in leadership.
Sherman had been chief financial officer of Endocyte since 2006. He took the additional role of chief operating officer in 2014.
In a securities filing on Thursday, Endocyte simply said that Ellis "has tendered his resignation as an employee, officer and director." Ellis will get a severance package worth $944,717.
Ellis had been CEO since helping start the company in 1996, but under his watch, the business had several large setbacks.
It worked for 13 years on one drug, vintafolide, to treat ovarian cancer. But in 2014, clinical trials showed it didn't improve on existing therapies, and the drug was scrapped. The company spent tens of millions of dollars for research and drug development on vintafolide.
"Of course, it was a shock," Ellis told IBJ shortly afterward. There were literally people that had left jobs and come to work at Endocyte for this launch."
The stock, which had climbed as high as $28.17 per share in 2014, plummeted to single digits after that failure, and has yet to rebound. Shares on Tuesday dipped 0.9 percent, to $3.39, in midmorning trading.
In 2008, Endocyte was named one of Indiana's "50 Companies to Watch" by the state for its success in raising funds and promise in creating jobs. The company now has more than 70 employees.
But Endocyte has yet to capitalize on all its fundraising and hiring. Last year, the company lost $41.9 million on revenue of just $70,000.
"We would like to thank Ron, as our founding CEO, for his many contributions to building Endocyte and his tireless efforts in position the company for future success," said John C. Aplin, chairman of Endocyte's board, in a written statement.
Ellis previously worked at Hill-Rom, an Indiana company that makes hospital beds.
Sherman, the new CEO, said in a statement he was "excited to help unlock the potential" of the company's small molecule drug conjugates. The company is working on several experimental drugs for personalized therapy in cancer and other serious diseases.
Please enable JavaScript to view this content.