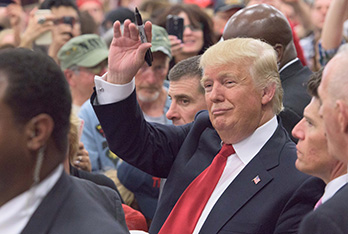 Donald Trump's nationwide lag in fundraising compared with former Secretary of State Hillary Clinton is apparent even in Indiana, despite the fact polling shows Trump comfortably besting Clinton in a general election matchup here.
Trump has raised $58,221 in donations from Indiana contributors so far this election cycle, according to new Federal Election Commission data that runs through May. Meanwhile, Clinton has raised more than $1 million from Indiana contributors. Overall, Trump has about $17 million in individual contributions this cycle, compared with Clinton's $204 million.
The billionaire businessman has loaned his campaign $46 million dollars to help fund his run so far.
The candidates' fundraising reports made waves early this week due to the distance between the candidates in terms of current cash on hand, a crucial figure that determines how robustly a candidate can campaign and advertise. Clinton has $42.4 million in cash on hand at this point in the election, while Trump has $1.2 million in cash on hand.
"Bad congressional candidates raise more than that," said Dan Parker, a Democratic strategist who is helping Clinton's campaign. "It is absolutely shocking. Hillary has almost raised more in Indiana than Trump actually has in the bank."
Trump essentially became the presumptive nominee after Indiana's May 3 primary, which he won with 53 percent of the vote, essentially blocking U.S. Sen. Ted Cruz from the nomination. But Trump raised just $12,186 from Indiana contributors in the month of May. Meanwhile, Clinton raised $95,700 here in May, despite opponent Sen. Bernie Sanders winning the primary here.
Political analyst Brian Howey, who runs Howey Politics Indiana, said he has never seen anything like Trump's lack of statewide infrastructure, such as campaign offices, staff and fundraising operations. But Trump also said early on that he was self-funding his campaign, Howey pointed out, which could partially explain the lack of fundraising.
Calls to Trump's Indiana team were not immediately returned to IBJ.
"The national figures are stunning and baffling and inexplicable," Howey said. "He's got a lot of support here. This tells me he's not even really trying. If you're an Indiana Republican on the ballot, you're not sleeping well. He doesn't seem to be taking seriously the things you have to do to win a general election."
The most recent polling in Indiana, conducted in late April by NBC/WSJ/Marist, had Trump seven points ahead of Clinton in a general election matchup.
Meanwhile, David Buskill, executive director for the Indiana Republican Party, said Trump's absence from the Indiana fundraising scene has actually helped the state party's efforts.
"Because the primary went so late and the Trump campaign really didn't focus on fundraising, it's benefited us," Buskill said of the state Republican party. "There hasn't been that much pressure on donors. A lot of times people prefer to give to individual candidate over the party, but at this point, we've been aggressive in our fundraising and we're ahead of schedule."
He declined to provide specific figures.
Buskill said he has "no idea" what the Trump campaign is planning going forward in Indiana.
Please enable JavaScript to view this content.