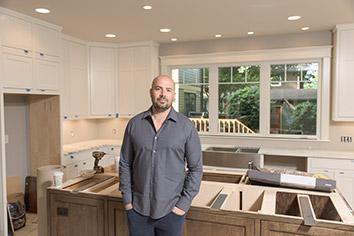 Residential contractor Michael Boaz expects the home he put on the market this month will sell quickly, even with a $700,000 price that's beyond the reach of a typical buyer.
But the house in the Meridian-Kessler neighborhood isn't a normal listing—for another reason. If it changes hands within 12 months of his initial purchase, which Boaz thinks it will, the sale will be considered a flip.
In many metro areas across the country, including Indianapolis, home flipping is on the rise, according to a report from real estate data company RealtyTrac of Irvine, California.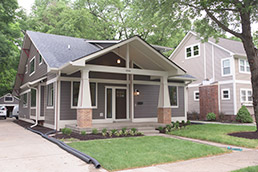 Boaz buys and renovates about three homes per year. He likes homes in Meridian-Kessler, like this one on Broadway Street. (IBJ photo/Eric Learned)
Locally, the number of homes flipped in 2015 jumped 9 percent from the previous year—no surprise to Boaz.
"Everyone seems to want to do it, and there are people who are willing to pay more money not understanding they can get themselves in a situation where they can lose money," said Boaz, who operates Michael Boaz Construction LLC.
RealtyTrac attributes the rebound not to a rash of foreclosures, which drove a flurry of activity during the recession, but instead to a recovering housing market that is drawing more investors lured by fast cash from quick sales.
In the Indianapolis area last year, the number of homes flipped accounted for 3.2 percent of total home sales, lower than the national average of 5.5 percent. Nationally, 2015 marked the first annual increase in the percentage of homes flipped following four straight years of decreases, according to the RealtyTrac report.
Despite the increase, the percentage of homes flipped nationally last year still pales in comparison with the 9 percent level when the residential market began collapsing in 2006.
Flipping can still be highly lucrative, though, according to RealtyTrac. Profit on a flipped home in Indianapolis last year averaged nearly $41,200, with a return on investment of 42.2 percent.
"Not only is the share of home flips on the rise again, but we also see the flipping trend trickling down to smaller investors who are completing fewer flips per year," Daren Blomquist, senior vice president at RealtyTrac, said in the report.
That's Boaz, who aims to complete three flips a year. He began flipping homes 10 years ago south of Broad Ripple at the start of the residential downturn, when foreclosures were more prevalent. He parlayed the renovations into a construction company.
"Those sales are more saturated with buyers now, and people are willing to spend too much money," Boaz said of foreclosures. "It's gotten so competitive that I've gotten away from it."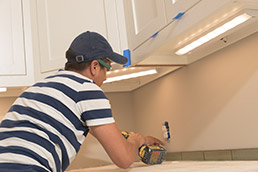 Michael Boaz Construction LLC now focuses on flipping higher-end homes. Boaz finds houses through an extensive network of real estate agents and individual sellers. (IBJ photo/Eric Learned)
So he began focusing on higher-priced homes in more upscale Meridian-Kessler, where he employs several other methods of prospecting. His strategy revolves around extensive networking, which leads home sellers and real estate agents to simply call him.
Boaz is most interested in the "worst of the worst"—homes that might have severe termite or mold damage that make them difficult to sell on the open market but offer him the greatest potential for a big return on his investment.
Even so, Boaz still has competition, mostly from Litz Real Estate, a local real estate agency and developer that flips many more homes—up to 25 a year. Besides Meridian-Kessler, Litz will search for deals in other north-side neighborhoods such as Butler-Tarkington, Meridian Hills, Williams Creek, Highland-Kessler and the Spring Mill corridor.
The company even has a listing for $1.8 million on Crooked Stick Golf Course in Carmel.
Litz got heavy into flipping homes in 2010, when foreclosures were plentiful. Once that market dried up, the company began looking at different opportunities, such as auctions and estate sales, President Brad Litz said.
The competition remains fierce, said Litz, who was surprised to learn that local home-flipping activity last year wasn't higher than the 9 percent RealtyTrac reported.
"If you look at it from an investor's standpoint," he said, "you can easily beat the stock market if you know what you're doing."
The number of homes available to flip from foreclosures might be fewer than during the recession, but more people are looking for alternative investment opporwtunities, Litz said. Still, he thinks there is enough "of the pie to go around." The homes he rehabs start at $300,000 and run well past $1 million.
"Almost every day someone calls or emails us and says, 'Hey, we've got this house. It's been in the family a long time.'"
One of the areas in the city where the stock is running dry is Fountain Square. The rejuvenated neighborhood has become so trendy that most of the vacant homes have been snapped up, pushing the renaissance into the adjacent Bates-Hendricks neighborhood to the west.
In fact, Mina Starsiak and her mother Karen Laine, who own the Two Chicks and a Hammer home remodeling company and shot to fame with their HGTV show Good Bones, bought a home in Bates-Hendricks for $7,000 and sold it within a month for $200,000. The house was featured in the show's pilot last year.
The two acquire many of their homes through the Renew Indianapolis program, which helps homebuyers purchase abandoned properties.
"Single-family rehab is challenging to make a profit in a typical market, because the profit margins are so low and because of our lower home prices," said Katy Brett, Renew Indianapolis' executive director. "But in a market that is escalating very quickly, like Fountain Square, your chances of making a profit are fairly high."
Many metro areas—particularly those in markets like Florida, where the housing market took a huge hit during the recession—now are seeing many more homes flipped than in Indianapolis.
Those with the biggest year-over-year increases in activity are Lakeland, Florida (50 percent); New Haven, Connecticut (45 percent); Jacksonville, Florida (41 percent); NS Homosassa Springs, Florida (40 percent).
In the Midwest, Louisville led with a 25 percent increase, followed by Chicago's 21 percent.•
Please enable JavaScript to view this content.