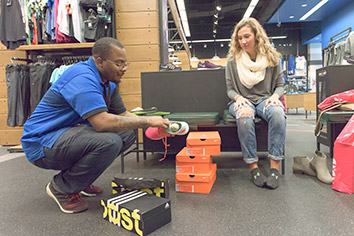 Finish Line Inc. shares rocketed 20 percent higher Friday after the athletic shoe and apparel retailer reported quarterly results that narrowly beat expectations and forecast a stronger second half of the year.
Even though the overall stock market was down sharply, shares of the Indianapolis-based retailer spiked and were trading late morning at $20.18, up $3.39 on the day.

Finish Line reported earnings per share for the fiscal first quarter, which ended May 28, of 23 cents, a penny higher than analysts had forecast. Sales climbed 2.3 percent to $453.2 million, topping the $449.6 million estimate from analysts. The company said same-store sales rose 2.3 percent.

"We delivered first quarter results that were in line with expectations despite the challenging retail environment," Finish Line CEO Sam Sato said in a written statement.

Finish Line said profit totaled $9.6 million, down from $13.8 million in the same period a year earlier.
The company has been trying to win back investor confidence after a
series of missteps
, including a botched transition to a new warehouse-management system late last year that caused it to miss out on $32.5 million in sales. 

When the company announced that setback, it also reported that longtime CEO Glenn Lyon was stepping aside and was being succeeded by Sato, who'd been president.
In a conference call with analysts Friday, Sato said: "Importantly, we made further progress addressing the temporary challenges that have impacted our recent performance and started working on fortifying the foundational strength of the company to drive and improve results near term and position Finish Line to compete and succeed long term."
 
The company said it remains on target to increase same-store sales from 3 percent to 5 percent and post earnings per share of $1.50 to $1.56 for the full fiscal year, which ends in February.

Finish Line operates 980 Finish Line locations, primarily in malls and inside Macy's stores, and 71 JackRabbit running shops.
 
Sato said on the call that his four priorities are "strengthening engagement" with Finish Line customers, boosting the performance of the Macy's and JackRabbit locations, bolstering the company's leadership team and "creating an operating model that drives profitable growth."
 
Chief Financial Officer Edward Wilhelm added: "We continue to feel good about our prospects for growth in the back half of the year," thanks to a variety of initiatives underway to boost performance.
Please enable JavaScript to view this content.