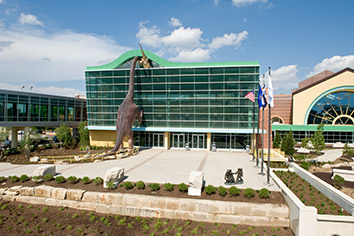 The Children's Museum of Indianapolis has assembled a team of heavy hitters to help the international attraction pull off its largest expansion in 40 years.
On Wednesday, the museum formally announced its plans for the Riley Children's Health Sports Legends Experience, a $35 million indoor/outdoor attraction that will include activities from a variety of sports—basketball, football, golf, running, tennis, soccer, motorsports and more—with sections dedicated to teams including the Indianapolis Colts, Indiana Pacers and Indiana Fuel. (Click on map image for larger view.)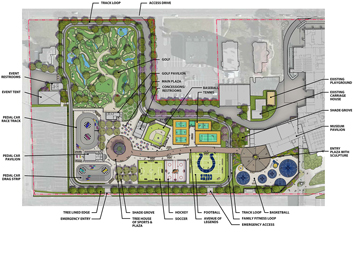 The Riley Children's Health Sports Legends Experience will be developed directly north of the Children's Museum at 30th and Meridian streets. (Image courtesy the Children's Museum of Indianapolis)
The attraction is to be built on land just north of the current museum on what is now a surface lot bounded by Illinois Street on the west side and on the land where The Whitestone apartments once stood along Meridian Street.
"Our goal is to create an immersive outdoor and indoor family health, fitness, and sports experience that will inspire visitors to be active together in a non-competitive way while creating healthy habits that will stay with entire families for a lifetime," museum President and Chief Executive Officer Jeffrey H. Patchen said in a news release.
IBJ first revealed these plans last month, but the museum held its own news conference Wednesday morning to discuss the project in more detail.
The outdoor portion of the 7.5-acre facility will be open from April through November, with the potential to open as early as March or as late as November depending on weather. The indoor portion will remain open year round.
The development will include "experience" areas devoted to individual sports. It will also include sports legends areas, a tree house and a family fitness path.
Riley Hospital for Children is the project's title sponsor.
"We share the same core value for this project—a desire to help keep all Hoosier kids and families healthy. We know that can be done by showing the impact physical activity can have on health and wellbeing through an interactive experience that gets families moving," Riley Hospital President Matt Cook said in the news release.
Other sponsors include the Herbert Simon Family Foundation, Old National Bank, the Lilly Endowment, the Efroymson Family Fund, Henry and Christine Camferdam, the Children's Museum Guild, Elizabeth Bracken Wiese and J. Frederic Wiese Jr., the Indianapolis Colts, the Indy Fuel and Jane and Steve Marmon.
The park's components will include:
—Indiana Pacers and Indiana Fever Basketball Experience
—Old National Bank Sports Legends Avenue of Champions
—Indianapolis Colts Football Experience
—The Sports Legends Pavilion and Plaza presented by the Efroymson Family Fund
—Pete & Alice Dye-designed Golf Experience presented by Henry and Christine Camferdam
—The Children's Museum Guild Fantasy Tree House of Sports Climbing Experience
—Wiese Field donated by Elizabeth Bracken Wiese and J. Frederic Wiese, Jr.
—Jane and Steve Marmon Running Experience
—USTA Family Tennis Experience
—Soccer Experience
—Indy Fuel Hockey Experience
—Indianapolis Motor Speedway Pedal Car Racetrack Experience
—Pedal Car Drag Racing Experience
—Family Fitness Path
The museum is using Ratio Architects, contractor Shiel Sexton and its own in-house exhibit team to develop the concept and plans. For more renderings and a  detailed look at each activity area, see video below.
In planning the project, the museum consulted a number of sports experts including the Center for Sport and Policy at the University of Michigan, the U.S. Tennis Association, the Pete Dye Golf Trail, USA Football, USA Gymnastics, Jump IN for Healthy Kids, sports journalists, professional teams, athletes, and others.
The Children's Museum of Indianapolis was created in 1925 and moved to its current location at 3000 N. Meridian St. in 1946. The facility, which is the nation's largest children's museum, encompasses 472,900 square feet under roof and houses 120,000 artifacts.
Plans for the outdoor sports attraction have been in the works since at least 2012, when the museum purchased both The Drake and The Whitestone apartment buildings to the north of the museum from Indianapolis-based Zender Family Limited Partnership for $1 million each.
 
Please enable JavaScript to view this content.