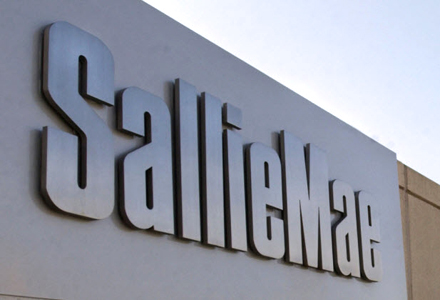 Student loan company Sallie Mae stands to receive almost $2.4 million in state tax breaks for expanding its Indianapolis operations, officials announced Thursday at the ribbon-cutting for the firm's new local office.
As IBJ first reported Thursday morning, Newark, Delaware-based Sallie Mae plans to spend $15.7 million on the office at 8425 Woodfield Crossing in northeast Indianapolis and add 278 workers to its existing staff.
Indiana Gov. Mike Pence, Lt. Governor Eric Holcomb, Indianapolis Mayor Joe Hogsett and U.S. Rep. Susan Brooks joined executives at Thursday's ceremony.
Sallie Mae recently renovated and equipped a three-floor, 76,000-square-foot space in the Three Woodfield Crossing building, near Keystone at the Crossing, to accommodate the expansion. It relocated operations and about 130 workers from its former office about 5 miles away at 8320 Craig Street earlier this month.
The new space includes 550 workstations, five conference rooms, two training rooms, a multipurpose room and breakroom.
Sallie Mae makes and services private education loans and offers banking products through Sallie Mae Bank.
Officials said the new office will accommodate information technology and customer service departments. Last year, the company began moving all of its customer service operations for its private education loans from offshore to the United States.
Sallie Mae conducted an open house at the new site June 13-14 to begin interviewing potential collections representatives. The company said its collections reps earn an average of $47,000 per year, but can earn more with incentives and overtime.
The company has already hired about 60 workers this year, bringing local employment up to 189. The company said it should have 409 local employees by the end of 2018.
Sallie Mae, which has about 1,200 employees nationwide, said the Indianapolis office will be its second-largest.
The Indiana Economic Development Corp. said the new positions offer average salaries 25 percent higher than the state's average wage, which equals about $55,000 annually.
The IEDC offered Sallie Mae up to $2.37 million in performance-based tax credits and up to $100,000 in training grants. The incentives hinge on the company's ability to meet hiring goals.
"This commitment of information technology and customer service jobs is a natural extension of our focus on innovation and customer experience," Sallie Mae CEO Raymond Quinlan said in a written statement. "This investment completes our customer service transformation from offshore and outsourced, to onshore and insourced. We are confident that the talent pool in Indianapolis will be an asset to our growing enterprise."
 
Please enable JavaScript to view this content.