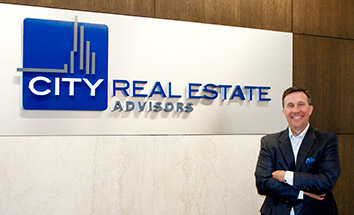 The parent of City Securities Corp. has sold its biggest subsidiary to a New York-based real estate holding company, a move that's expected to give the niche operation more room to grow.
Indianapolis-based City Real Estate Advisors Inc. is little known outside the $13 billion low-income-tax-credit-syndication industry, but the 83-employee firm has grown into one of the biggest players in that field. On June 28, parent City Financial Corp. sold the business to Omni Holding Co. LLC, which is partly owned by the $13 billion private equity firm Stone Point Capital LLC of Greenwich, Connecticut.
The sale price was not disclosed. The business is expected to post $40 million in revenue this year. Based on typical sale multiples in the tax credit industry, it likely fetched more than $20 million, one observer said.

Bosway
The company, which changed its name to CREA LLC in the wake of the deal, will continue to be headquartered in downtown Indianapolis, with the same management. Mike Bosway, CEO of parent company City Financial Corp., said the 15-year-old firm—which accounts for half of City's revenue—simply outgrew its parent, and Omni emerged as an "aggressive buyer" over the past several months.
"There are some things they would like to do, and our balance sheet just doesn't allow them to do it," Bosway said. "So with a partner that has a larger balance sheet and has access to the type of capital that they need to execute … it allows them to ultimately get where they want to be."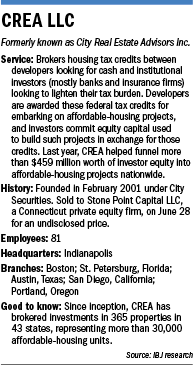 State agencies award federal tax credits to developers embarking on affordable-housing projects. CREA effectively plays matchmaker between developers that want to unload the credits in return for project funding and institutional investors—mostly banks and insurance firms—looking to lighten their tax burden.
Jeff Whiting, CREA's CEO since launching the City Financial subsidiary in 2001, said the sale increases the company's growth potential, allowing the business to keep pace with housing developers that sell the credits and investors that buy them.
"You're either growing or dying—there really is no in between," said Whiting, 55. "And if my clients are growing and I'm not growing with them, then someone else is going to grow with them."
Stone Point didn't reply to requests for comment.
CREA was one of three subsidiaries under the City umbrella. The others are City Securities Insurance LLC, a brokerage founded in 1933, and City Securities Corp., Indiana's oldest investment firm, which was founded in 1924 by J. Dwight Peterson.
IBJ reported in December that City Financial had hired the Chicago-based investment bank River Branch Capital to assess strategy options—a step that often paves the way for company sales. The story noted that City was at a crossroads, in part because Chairman John Peterson, son of the founder, is 83 and has no family members on a trajectory to succeed him.
Asked whether City is shopping its remaining businesses, Bosway said in an email: "It's a fact of life in today's financial services world that strategic options be under constant review. I would never comment on active discussions. There have been some in the past, and I don't expect that to change."
Rising star
CREA, which employs about 45 people in Indianapolis, has been City Financial's fastest-growing business. In 2015, CREA helped place roughly $460 million in investor equity into affordable-housing projects across the country, up from $145 million in 2010. This year, it's on track to place $600 million.
City's buyer, Omni Holding Co., controls Omni New York LLC and Omni America LLC, both affordable-housing development and revitalization companies. 

Goldstein
Richard Goldstein, an attorney with Washington, D.C.-based Nixon Peabody LLP who specializes in the field, said the price of tax credits is driven by supply and demand. Lately, he said, investors have been paying about $1.05 for every dollar of tax credit.
Financial institutions that buy the credits reduce their taxable income. In addition, the equity they provide developers in return helps satisfy regulatory requirements for investing in communities where they take deposits.
"So there are a lot of banks that are intent on getting these credits so they can go to the bank regulators and say these kinds of investments count toward their investment responsibilities," Goldstein said.
Fred Copeman, a Boston-based director of the tax credit investment services unit at accounting firm CohnReznick LLP, said CREA ranks among the top 10 players in its field, which has about 40 competitors.
He said the largest tier of firms, including Raymond James Financial, places $700 million to $950 million in equity each year. CREA falls under the next tier, which facilitates $400 million to $700 million in equity.
"I sometimes describe CREA as a 15-year-old overnight success," Copeman said. "They started out as a really low-key operation. Their growth had been measured, which is a good thing because we've seen some firms try to grow too quickly and not serve their investors well."
Bosway said City Financial's conversations with Omni kicked off last fall, and it ultimately beat out "a handful" of other suitors.
Whiting, CREA's CEO, came up with the idea of starting the business in the 1990s, after the Tax Reform Act of 1986 created the foundation for the low-income housing tax credit industry.
CREA started off as a regional player, but began forging a national identity when it opened a Boston office in 2009 and an Austin, Texas, office in 2010. Today, it has six offices in six states and has facilitated equity investments in housing developments in 43 states.
Stay the course
Goldstein, the Nixon Peabody attorney, said the overall market of allocated tax credits has been relatively stable, so CREA's growth has mostly involved increasing its market share. Bosway said he believes CREA's growth has been fueled by its adeptness at cultivating clients and scooping up talent.
"Our relationship with developers and a couple of large institutions took us outside of Indiana," Bosway said. "That has led us to getting to know other developers in other states, and before we knew it we were hiring people … who had more relationships."
Whiting said he expects CREA to continue operating as it has. He said he doesn't expect much, if any, concern from developers about CREA's ties to Omni's development companies. He anticipates continuing to work with a variety of developers.
"We've had that conversation with a number of developers … and it's a concern we had at the very beginning," Whiting said. "And they've all come back to us and said, 'We all have to compete for the same pool of [investor equity]. If they get it, they get it; if we get it, we get it.'"
He noted that, since Omni submitted its letter of intent to buy CREA in March, "We've [booked] over $200 million worth of equity with developers with full knowledge of what we're doing."
Copeman, the CohnReznick director, said CREA will be positioned to grow even faster if Congress follows through on expanding the pool of tax credits. In May, Democratic Sen. Maria Cantwell of Washington and Republican Sen. Orrin Hatch of Utah introduced the Affordable Housing Credit Improvement Act of 2016, which would increase the amount of low-income housing tax credits by 50 percent through 2020.
"We just can't even get close to meeting the demand for affordable-housing units," Copeman said. "The housing credit program produces about 100,000 new apartments a year, and we probably need 7 or 8 million nationally."•
Please enable JavaScript to view this content.