A condo at the Conrad might set you back $4 million. But that's chimp change compared to a newly constructed home just a few blocks away.
There, new residents have moved into $26 million digs, complete with cathedral ceiling, high-tech security and games, floor-to-ceiling windows, and such unusual amenities as retractable bridges and a light-up steeple visible from downtown.
The Simon Skjodt International Orangutan Center—home to Azy, Knobi, Katy, Rocky, Charly, Lucy, Basan and Nicky—opens at the Indianapolis Zoo May 24 (members get a look beginning May 21). And it's hard to imagine a bigger zoological box-office draw than an octet of expressive, engaged, personality-overflowing primates.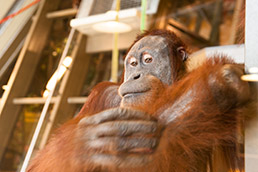 Eight years of planning went into the Indianapolis Zoo's orangutan center. (IBJ photo/Eric Learned)
When it comes to animal attractions, orangs also are a new way for the Indianapolis Zoo to get in the black. The zoo is expecting up to a 25-percent increase in attendance during the first year for the exhibit, which includes its own supplemental gift shop.
"The initial concept was to tell the stories of all of the great apes—chimps, bonobos, gorillas and orangutans," said Indianapolis Zoo CEO Michael Crowther. "But this was in the midst of the Great Recession and our feasibility study said there wouldn't be the money to build something of that scale. So, instead, we asked, 'Where is the greatest need?'"
The answer that came back via fundraising consultants: orangutan conservation.

Crowther
The story is, indeed, compelling. Where orangutans once roamed as far as India and China, their natural habitat is now confined to the islands of Borneo, where the World Wildlife Fund says the orangutan population has declined more than 50 percent in 60 years, and Sumatra, where it's dwindled to about 7,300 and is now confined largely to the north. As such, orangutans are the only great apes to be found outside of Africa.
Moving the needle
The commonly accepted primary villain in the story is palm oil. Plantations for the oil—which is used in a range of products including ice cream, canned soups and potato chips—have cut off migration paths in the rain forests, putting a damper on orangutan repopulation. With a birth rate of only one every eight years—the slowest among mammals—and with mixing of Borneo and Sumatran orangutans (considered genetically distinct species) frowned on, it adds up to the beleaguered apes' having their breeding work cut out for them.
"The feasibility study showed that, if we focused on orangutans, we could move the needle," said Crowther, stressing that the zoo's mission statement is about conservation rather than entertainment. Yes, the physical zoo is important, but only in that it serves a purpose in advancing animal conservation around the world, he said.
But saving a species doesn't come cheap. With an initial estimated budget of $20 million, the center came into focus and, Crowther said, "very little has changed since we decided on that focus."
The orangutans are curious about people and initiate interaction. The zoo's new residents spent more time in the entertainment industry than in the wild. (IBJ photo/Eric Learned)
Even before the announcement, the zoo had $17 million banked toward the project. Another $8 million came through after details were released, thanks to the efforts of former Cummins Inc. CEO Tim Solso and more than 30 other members of the campaign's leadership cabinet. More recently, in May, philanthropist Cindy Simon Skjodt pitched in with a $5 million donation.
Jonathan Hess, president of Browning Day Mullins Dierdorf, served as lead architect. No stranger to the Indianapolis arts and entertainment scene, his projects have included the Eiteljorg Museum of American Indians and Western Art, the Indianapolis Motor Speedway control tower, and the Herron School of Art.

Hess
His primary task: "Basically, we were trying to build a stimulating environment for a species that is very smart, very engaged, and very strong." The facility would take space in the heart of the zoo, displacing Lemur Island and a flock of flamingos.
No fake scenery
In addition to location, another early decision was to dispense with any ideas of creating a faux rain forest. Such an environment might add color and make for better visitor photos, but it would be meaningless to this tribe of apes, who grew up in other zoos and in the entertainment industry, not in Borneo or Sumatra.
If you recognize Rocky, for instance, it could be because you saw him on a Capital One commercial or in a photo shoot with Fergie for Elle magazine. Rocky knew more humans than apes until he was adopted, in a sense, by Knobi (he doesn't realize that Katy is actually his mother, which would make a great soap opera if these weren't apes).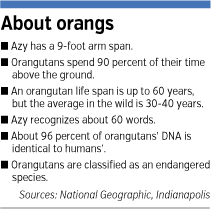 "These orangs have never known the wild," Hess said. "If we're making false rocks or an artificial canopy, that might make us happier but what we've made instead is a very honest expression of what the building is." In another words, you'll find hoses but no faux vines in the day room.
Visitors can watch the beasts—and vice versa—from outside the building through glass (slanted to mitigate both glare and collisions from migrating birds) or from inside. Arrive in the afternoon and there's a chance you'll see them taking turns at a computer screen where answering questions correctly leads to treats for the naturally curious apes.
The main facility includes the Efroymson Family Exploration Hub, offering educational kiosks and viewing areas, and the R.B. Annis Atrium, the primary hangout for the animals. It's topped by the Nina Mason Pulliam Beacon of Hope, a 150-foot tower that, at night, will be illuminated by lights the orangutans will turn on. The Myrta Pulliam Hutan Trail, a series of cables and retractable bridges, connects the hub to a group of outposts, where an ape can go when privacy is desired (something male orangutans crave). More important for visitors, the trail is where the orangutans can be seen swinging hand-over-hand 70 feet above zoo grounds.
While finding multiple purposes for new buildings might be important to others—and helpful on the revenue side—Crowther insisted that the building was not designed to do double duty as a party rental facility.
"One of the things we've learned is that when you design a space to accommodate multiple purposes, it does none of them very well," Crowther said. "It's not our intention for it to become a catering space or a restaurant."
That doesn't mean revenue isn't being considered. The zoo estimates a 20-percent to 25-percent uptick in admissions over the first year, translating into an extra quarter of a million visitors. (Of course, Crowther pointed out, weather can have a 20-percent impact in either direction.) Rides on the Skyline gondola, taking visitors closer to the climbing orangs, are available for a $3 upcharge.
And the main gift shop at the zoo exit is being supplemented by an orangutan-focused one next to the center.
For the latter, as with its main gift shop, the zoo contracts with Event Network, a cultural-attraction retailer whose other clients include the National Aquarium, the Alamo and the touring Titanic exhibition.
Education first
Josh Owen, the zoo's store director, said the first step in his department's preparation was education.
"We had to do our research," he said. "We wanted world-class product to go along with a world-class exhibit. The goal of the smaller shop is to provide a kind of Indonesian marketplace."
"After all these years," said Owen, "we're pretty accurate about predicting what will sell." Those will include everything from key rings and stuffed animals to free-trade items from Indonesia like a 5-foot-tall giraffe made from recycled flip-flops.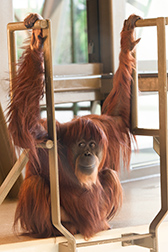 The zoo's mission focuses on conservation, not entertainment. As such, the needs of the orangutans are primary. (IBJ photo/Eric Learned)
Expected to be a top seller: a T-shirt that says "96.4% orangutan" (yes, humans are that close when it comes to DNA).
An Adopt an Orangutan kit, including a photo of Azy, a plush animal from Indonesia, a postcard and a magnet, runs $40, which includes $21-$22 going back to zoo conservation efforts.
In the exhibit, patrons will be encouraged to swipe a credit card to donate $5 to cover the cost of planting a tree in the rain forest in an effort to create migratory paths around the palm oil plantations.
"What we are trying to do here is create change in our guests," Crowther said. "That leads to behavioral change."
He pointed out that even the orangutans' presence in the world of entertainment has falsely created the impression that they were thriving. That, too, is changing. The last major player in Hollywood apes-for-hire, Working Wildlife, retired six of its apes, including Rocky and Katy, to the Iowa-based Great Ape Trust in 2008 and got out of the apes-as-entertainment business. Computer-generated beasts will be populating "Dawn of the Planet of the Apes," due in theaters in July.
Even without acquiring new apes, the population in Indianapolis could expand. The center can accommodate as many as 16—and the eight apes here include one potential breeding pair.
That would make Mike Crowther very happy.
"I didn't want to be sitting in my rocking chair wondering, 'What could I have done?'" he said.•
 
Please enable JavaScript to view this content.