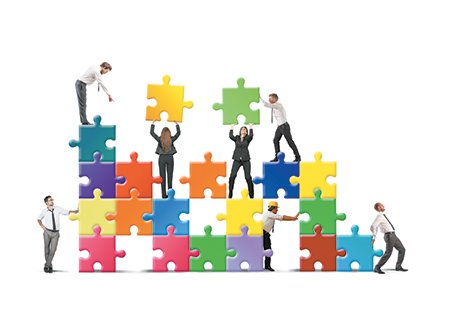 Hiring well is critical for companies that are growing fast: The ideal employee is flexible, eager to learn, and a good communicator, say those who lead this year's Fast 25, IBJ's list of fastest-growing private companies in the Indianapolis area.
Through trial and error, the CEOs have figured out how to build culture and success through smart hiring, starting with the screening and interview process and continuing with ways to motivate and retain their stars.
Jason Sondhi, who leads IT staffing and consulting firm Sondhi Solutions (No. 1), focuses on communication during the hiring process. Technology expertise is a given, but communication skills are equally important in the consulting environment.
Sondhi Solutions asks candidates to react to scenarios—including how to handle a project that's fallen behind or hit a snag—to gauge ability to connect with clients, said Sondhi, 32. The company also asks candidates for five-year goals, and gives extra credit to those whose plan involves learning a new competency.
Jessica Nickloy, CEO of architectural and engineering firm The Etica Group (No. 23), zeroes in on flexibility. Folks who prefer to stick to one specialty or sit in the office all day are not a good fit.
The firm's certified arborist, for instance, also does project management and civil engineering. Engineers do design work and go on inspections. Employees keep a change of clothes, boots and jeans in their cars to be ready for unexpected site visits.
"We tell everyone we're a small firm," said Nickloy, 40. "We ask everyone to chip in all around. There's not something we ask of them I don't do myself. When we first started, I took out the trash and cleaned the bathroom. It wasn't until a few years ago we got a janitorial service."
Transportation software firm DoubleMap (No. 12), which has grown employment to 40 from five in 2013, puts a high value on adaptability, said CEO Ilya Rekhter.
Rekhter initially focused on hiring friends with "high moral character, open to taking risks, and who believed in us" but soon realized you run out of people in your own network. He still looks for some of those qualities.
One go-to interview question: In the past, how did you deal with being asked to do something outside your job description? Did it make you excited or nervous?
"If the hires you make early on are really stuck in their ways and jobs they were doing when they started, that doesn't scale," said Rekhter, 28. "You really have to have the team grow as the product grows."
For instance, a DoubleMap employee who started as an installer now manages the entire support staff and technical proposals. Another started with payroll and now manages human resources and finance.
Online form-building-focused Formstack (No. 11) collects feedback on potential new hires from its management team, would-be peers and a dedicated culture panel—and considers all the feedback on "a level playing field," said CEO Chris Byers.
Its interview process includes questions about how to handle difficult conversations with co-workers. The company looks for folks who can have such conversations without harming long-term relationships.
Once hired, new Formstack employees embark on a 90-day "onboarding" process led by a Talent Team that's "overstaffed" by design, said Byers, 38. The process—designed in response to early growth missteps—helps create a culture that overcomes physical barriers (most team members work remotely).
"In a fast-growing remote organization, we need people who are willing to keep us updated with sometimes even low-value updates," Byers said. "We want to know that you are alive, and we want to be able to help you when you run into problems."
Formstackers use Wiki-style products like Confluence and HipChat, and the company also created its own tool called Jell for staying in touch. Communication among employees is not all business, either: They compete in multiplayer online games and card games via video—activities that build a sense of teamwork and also boost retention, Byers said.
Sondhi Solutions encourages employees to use the enterprise social network Yammer and Skype for Business to stay in touch when they can't work side by side. It also arranges quarterly group events, and gives employees one day a month to work on their own side projects.
Etica, which has 16 employees, offers workers flexibility and a sense of family—which helps overcome a less robust benefits package than much bigger firms offer.
The old adage "hire slow, fire fast" is particularly relevant to small, fast-growing firms like Etica, Nickloy said. If the fit isn't right, even one bad employee can become a cancer.
Pay, of course, is always a factor. But Rekhter noted poaching of talented workers is less of a problem for executives of fast-growing Indiana companies compared to counterparts on the coasts.
He's embraced Indianapolis, and its nearby world-class universities, as a recruitment tool and competitive advantage. Many of his employees are eager to build a life in Indianapolis.
"You can make a software company work out of Indiana," Rekhter said. "Software is the same here. Why not have a better lifestyle here but still play on a major-league level?"•
Check out more of IBJ's ranking of Indy's fastest-growing companies.
Please enable JavaScript to view this content.