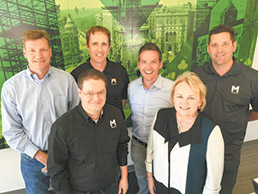 The Milhaus team includes: front row, from left, Andrew Lahr and Alexandra Jackiw; back row, from left, Gregory Martin, Jason Sturman, Jeremy Stephenson and Tadd Miller. (IBJ photo/Mason King)
Revenue Growth FY 2013 to 2015: 276%
Continued success: CEO Tadd Miller said new markets, new projects and new hires accounted for Milhaus' skyrocketing growth in 2015. The real estate firm—which was No. 1 on this list last year—added offices in Pittsburgh, Milwaukee and Oklahoma City in the past year and soon will be in Tampa and the Carolinas.
More hiring: Miller said the company now has 300 employees—double the number it had last year. New hires include a chief investment officer and a vice president of construction.
"Last year," he said, "we had a celebration party for adding our 150th employee at the time the list of fastest-growing companies came out—and that list had us at 68 employees. So we doubled in size between the time we were named fastest-growing company and the article came out."
Under construction: New developments by Milhaus in Indianapolis include 747, consisting of 39 apartments at the corner of College and Massachusetts avenues, and Pinnex, a four-story, 77-apartment building at 931 Fletcher Ave. The 747 development is tech-focused, with an app controlling lights, locks and more. Pinnex will feature a back yard with hammocks, a patio and a pet wash, as well as a "maker's room" space where residents can do painting and woodworking projects.
Branching out: Milhaus continues to expand its role as a property-management company. It manages all the campus housing developments by Annex Student Learning (No. 10 on the Fast 25 list) as well as student properties at Purdue and Western Michigan universities and housing developments in Indianapolis, Columbus, Lexington and Cincinnati.
An offshoot: On June 1, Milhaus spun off its home-building division as a separate company called Onyx+East. The division started as an incubator project building flats and town homes—the Park 10 condo and town home project and the boutique-style luxury town homes of 13th Street and Central Avenue. Milhaus will continue to build mixed-use, multifamily projects. Miller said the company remains on course to achieve its goal of building 20,000 units in 10 markets by 2020.•
Check out more of IBJ's ranking of Indy's fastest-growing companies.
Please enable JavaScript to view this content.