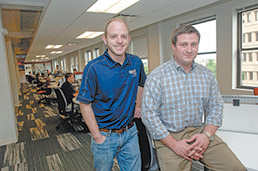 Co-presidents Andrew Schenck and Andrew Elsener are moving Spot Freight downtown. (IBJ file photo)
Revenue Growth FY 2013 to 2015: 201%
On the move: Spot Freight's growth will be evident soon downtown. The third-party logistics company, which works with trucking companies to ship freight across the country and in Canada and Mexico, is taking over 18,000 square feet on the second floor of 141 S. Meridian St. and will have a sign where Jillian's used to be. The move will more than double the size of its offices and accommodate 170 desks.
"We're out of space," Co-president Andrew Schenck said. "We've got people sharing desks."
More hires: Spot Freight doubled its workforce in the last year and expects to hire 30 more reps by December, Schenck said.
Why they're growing: Schenck and Co-president Andrew Elsener said there are several reasons their company, which was No. 9 on the 2015 Fast 25 list, has been able to expand so rapidly. Schenck said additional business from existing customers and new business drummed up by new employees have helped.
"A lot of the hires are really taking off," he said, "so business is growing, and there's plenty of other business to grab. The only way we can grab it is by adding people to help us."
An addition: Spot Freight is growing elsewhere, too. The company has opened its first expansion office in Charlotte, North Carolina. "With our customer base in the location down that way, it's a good access point for freight in the South," Elsener said. "So we can have quick access to customers and continued development of a contractor-carrier base down there."
What's next: Spot Freight's managers said they're excited to roll out new technology that it thinks will make the company different from its competitors.
"It's going to make our users more efficient," Elsener said. "It will expand our offerings to customers and carriers, and there's nothing truly like it in the marketplace."•
Check out more of IBJ's ranking of Indy's fastest-growing companies.
Please enable JavaScript to view this content.