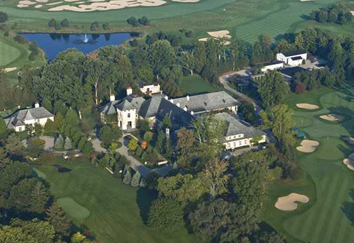 The sprawling Simon estate on Ditch Road, perhaps the grandest residence in Indiana, might finally be on the verge of changing hands.
Homebuilder Paul Estridge Jr. has been in discussions about acquiring the 106-acre property, according to a source familiar with the deal. Reached by IBJ, Estridge declined to comment but told a reporter to check back in a month.
Bren Simon, the widow of billionaire real estate developer Mel Simon, officially placed the estate known as Asherwood on the market in 2014 with an asking price of $25 million.  
Asherwood, however, is something of a white elephant for the central Indiana market, given the scarcity of prospective buyers with the wealth to buy and maintain it. Its value is said to be its available acreage for new residential development,  which may explain Estridge's interest in the property.
The estate has an address of 10110 Ditch Road and is surrounded by luxury single-family-home communities such as Deerfield, Windemere and Coppergate.
Listing agent Natasha Radovich of Carpenter Realtors didn't return a phone call seeking comment on the status of the property.
Asherwood features a 50,000-square-foot mansion—rumored to have been built for $55 million in 1999—and its own private, 18-hole golf course.
The main house consists of 36 rooms, including seven bedrooms and 24 full or partial baths. The property also includes a 6,000-square-foot guest house, a 7,000-square-foot clubhouse, and three maintenance buildings for the golf course totaling 20,000 square feet.
Simon and his wife had been working on disposing of the home even before the billionaire's death in September 2009. IBJ reported in 2008 they were laying the groundwork to donate Asherwood to the Indiana University Foundation, potentially to house a new think tank. The donation never came to fruition.
Married in 1972, Mel and Bren Simon frequently bought and sold major residential properties.
Most recently, Bren sold the couple's Bel Air, California, home for $34.9 million, according to a June 20 Wall Street Journal story, suggesting a steep discount from the original list price of $50 million in 2010.
The 20,000-square-foot Italianate villa boasts eight bedrooms, 16 bathrooms and features a movie theater, indoor spa and gym, billiard room, wine cellar, poolside lounge, guest house, 2,000-square-foot master retreat and a subterranean garage to store a car collection.
Estridge, a fixture in the area's homebuilding industry, merged his former Estridge Group into Houston-based David Weekley Homes in April 2011 and became the company's Indiana division president.
He left in 2013 to launch his new company, Estridge Homes LLC. Estridge is building in residential communities in Fishers, Noblesville and Westfield.
 
Please enable JavaScript to view this content.