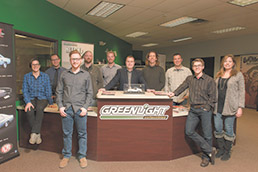 CEO Russell Hughes, center, behind diecast car, and two partners bought the business three-and-a-half years ago. He has built it by negotiating licensing agreements and building relationships with retailers. (IBJ photo/Eric Learned)
Revenue Growth FY 2013 to 2015: 199%
Collectibles: Russell Hughes has his company's products all over his desk. There's Elvis' pink Cadillac, the station wagon from "National Lampoon's Vacation," vehicles from "The Walking Dead" and "Starsky & Hutch" and more. They're all part of GreenLight LLC's ever-expanding line of collectible diecast model cars.
Building the business: Hughes joined the company in 2003, when it was a startup. He was coming out of Butler University with an economics degree. Three-and-a-half years ago, he and two partners purchased the business.
"We saw a lot of opportunity here," he said. "You take a look at a company like Mattel—they're a $9 billion company in the toy industry, and we thought there was a bigger piece of the pie for us than was currently being taken."
Manufacturing: GreenLight cars aren't toys; they're geared for adult collectors and typically sell for $49 to $200. They're manufactured in China and Bangladesh, which presents its share of challenges. For quality-control purposes, GreenLight has seven full-time staff in Asia who monitor production.
Adding on: To build the business, GreenLight put together a strategy to add licensing agreements with the likes of the Elvis Presley estate, IndyCar and other high-profile entertainment entities, and purchased diecast manufacturer GMP out of suburban Atlanta. GreenLight is now in the process of buying First Response Replicas in Frankfort, Kentucky. In the past two years, it has also grown its relationships with retailers and distributors, adding Walmart and Target to the list of places that sell GreenLight cars.
Continued growth: Hughes said GreenLight has several high-end license agreements in the works that should add to the company's opportunities for retail and promotional exposure. He's optimistic, but cautious.
"We're very careful how we manage inventory and license agreements and guarantees," Hughes said. "Despite the growth, we are conservative in how we go about things."•
Check out more of IBJ's ranking of Indy's fastest-growing companies.
Please enable JavaScript to view this content.