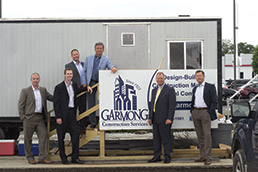 The Garmong team includes, from left, Brian Kooistra, Michael Preyss, Paul Okeson, David Hannum, Jeff Schroeder and Ralph Wagle. (IBJ photo/Alysa Tarrant)
Revenue Growth FY 2013 to 2015: 198%
New location: After 90 years in Terre Haute, construction company C.H. Garmong & Son Inc. opened an Indianapolis headquarters five years ago and was able to branch out in markets all over Indiana. That's when the business took off.
"In construction," Chairman and CEO David Hannum said, "you need to be close to your customers geographically."
Another benefit: Being in Indianapolis gives Garmong access to the best workforce.
"The lifestyle and quality of life in Indianapolis offers a lot of benefits for our key employee base, which is 30-40 years old, so it's easier to recruit top talent," Hannum said.
Projects: Garmong is one of the two general contractors on the $50 million St. Vincent Center attached to Bankers Life Fieldhouse, which will serve as a training facility for the Indiana Pacers and as a St. Vincent medical facility. The 130,000-square-foot facility is expected to open in 2017. Other Garmong work includes renovation projects at Butler University and IUPUI and work on the $29 million Arc of Indiana institute/teaching hotel in downtown Muncie.
Staying ahead: Because construction is so competitive, Hannum said, his company's biggest challenge "is always making sure all of our compensation and benefits are best in class, because the world changes so quickly. We work very hard to make sure our professional employees are treated as well or better than they could [be] anywhere else, because that's what we're selling … the ability of our construction professionals to manage projects and deliver projects."
Expanding roles: Hannum said Garmong is becoming more of a real estate development firm and is active in public-private partnerships all around Indiana.
"We've done empty-shell manufacturingspec spaces for about a dozen communities at this point, with fantastic success for both the communities and our growth," he said. "We can do that because we're so geographically diverse. It's another reason why we're opening new offices—so we can maintain relationships with the smaller towns."•
Check out more of IBJ's ranking of Indy's fastest-growing companies.
Please enable JavaScript to view this content.