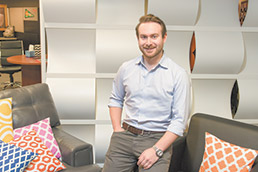 CEO Ilya Rekhter said DoubleMap's market will grow as people get used to on-demand services. (Photo courtesy of DoubleMap)
Revenue Growth FY 2013 to 2015: 134%
The backstory: As students at Indiana University in Bloomington, Ilya Rekhter and his partners created a prototype for software that would help students track where buses were and let visually impaired riders know when buses were coming. That was the beginning of what became DoubleMap in 2012.
Evolving: Two years ago, DoubleMap bought Florida-based TapRide, an on-demand ride-hailing and dispatching service similar to Uber or Lyft, and adapted that technology to be used by public transit systems, airports, hospitals, corporate fleets and others.
"That's now about a third of our revenue," Rekhter said, "and we're thinking that, in one or two years, it will overtake our traditional product."
How it helps: In Orlando, the bus system faced what's known as the first mile/last mile problem: It had people who wanted to ride the buses, but they lived too far from a bus stop. Now, if you live, say, two miles from the nearest bus stop in Orlando, you can use DoubleMap's TapRide to request a ride to the bus stop, or from the bus stop to home.
Clients: In addition to Orlando, DoubleMap's clients include York County outside of Toronto, "an iconic [San Francisco] Bay Area company—one of the most valuable companies in the world," and both the city of Bloomington and Indiana University. If a student is working in the library past the hours buses run, he or she can request a ride using the TapRide app.
Competition: Rekhter said several companies are getting into ride sharing, and that's exciting.
"They're really helping to pave the way for additional services like this to exist because public transit has fundamentally different goals than Uber or Lyft," he said. "It's all about access. So the more people become comfortable with on-demand technology, the more opportunity there is for us to provide the software to public transit to use."•
Check out more of IBJ's ranking of Indy's fastest-growing companies.
Please enable JavaScript to view this content.