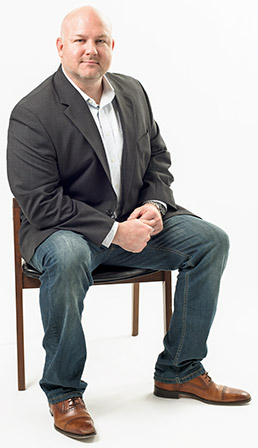 CEO J.J. Thompson's staff grew 35 percent while the firm doubled its client base in the past year. (IBJ file photo)
Revenue Growth FY 2013 to 2015: 115%
Needed service: Rook Security's continued growth—it was a Fast 25 company in 2015, too—reflects the ever-increasing need for cyber security services. CEO and founder J.J. Thompson said the staff grew 35 percent and Rook doubled its client base. It's now in the process of raising capital.
In the beginning: Rook started as a consulting firm in San Jose, California, and moved to Indianapolis—Thompson's hometown—where it started doing managed security services, helping people run their data security remotely. The company then started building its own software.
New products: In January, it released War Room, a GoToMeeting-like instant-response program that allows people to collaborate real time on instant and crisis response. Rook also is getting ready to unveil Managed Threat Response, which will help people reduce the time between detection and elimination of cyber threats. Rook realized that "the tools we had created for ourselves to be better at doing security operations are tools that enterprises could use to help their people do a better job of protecting their companies."
High-profile success: Though a lot of Rook's work is done behind the scenes, Thompson said it had a public victory in 2015 when it collaborated with the FBI Indianapolis Cyber Task Force after the Italy-based company Hacking Team was breached and had data leaked.
"That company had effectively created cyber weapons, and hackers released those cyber weapons into the wild online. It's like if a nuke goes missing in the middle of the desert type thing, only from a cyber perspective."
Rook involvement: The company wrote custom code to analyze all the cyber weapons and released free code for governments and others to detect whether those cyber weapons were being used against them.
"Every single day, we're brought into major crises for very large companies around the world, and we're helping them in this constant battle," Thompson said. "Working at Rook is not for the faint of heart."•
Check out more of IBJ's ranking of Indy's fastest-growing companies.
Please enable JavaScript to view this content.