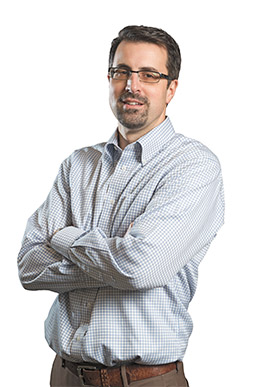 Executive Vice President Nate Lelle said the firm is expanding into new states. (Photo courtesy of Meyer Najem Construction)
Revenue Growth FY 2013 to 2015: 96%
Turning 30: Fishers-based Meyer Najem Construction will celebrate its 30th anniversary in 2017, and Executive Vice President of Business Development Nate Lelle said business has boomed over the past four to five years.
"We've been able to get with clients who really like how our project-management style works—that we're proactive and looking out for their best interests and communicating throughout the whole process," he said. "They keep bringing us back."
Branching out: Not only are the clients bringing them back, but companies such as Carmel-based Mainstreet, which builds health care rehab facilities, are taking Meyer Najem to other states. They've built projects in Colorado, Kansas, Texas and several southern states, Lelle said. As these clients are going into other states, "we're growing with them—to the point where we're ramping up our manpower and taking on whatever challenge the owners want to give us."
What it's done: Meyer Najem's focus areas are health care, senior living, education—higher ed and K-12—government and municipal work. Some recent or upcoming Indiana projects include the Community North Cancer Center, dorms at the University of Notre Dame, and the Blue Sky Technology Partners headquarters in Noblesville.
Big goal: Lelle said Meyer Najem tries to exceed expectations on every project. The goal is not just to be hired but to be rehired.
"We're not a one-and-done. We like to work with owners who like to have fun and make the construction process as much fun as possible. We try not to add any stress."
Job well done: Lelle said one of the pleasures of working in construction is to be able to drive down the street, see a building and say, "Hey, we built that project." He can also say that when he goes to work: Meyer Najem built the offices in Fishers that the company moved into a year and a half ago.•
Check out more of IBJ's ranking of Indy's fastest-growing companies.
Please enable JavaScript to view this content.