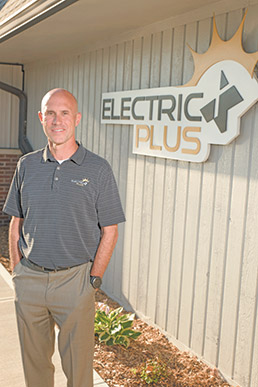 Timothy Whicker started the commercial electrical contractor above his garage a decade ago. Today, his clients include some of the area's biggest companies. (IBJ photo/Eric Learned)
Revenue Growth FY 2013 to 2015: 75%
Humble beginnings: Timothy Whicker, who graduated from Purdue University with a degree in construction engineering and management, started Danville-based Electric Plus Inc. above his garage with a couple of employees. Ten years later, the company has branch offices in Kokomo and Bloomington, 175 employees and a culture of safety that makes Whicker especially proud.
Diverse clientele: Electric Plus is a commercial electrical contractor that works on hospitals, industrial projects and schools. A diverse client base that includes the state of Indiana, Indiana University, Eli Lilly and Co., Eskenazi Health and General Motors has spurred the growth.
"Whether things have gone up or gone down, we've been able to work through those because we're diverse enough and not every industry has been down at one time," Whicker said.
Adaptable: Whicker said you'll see Electric Plus' foremen with iPads on the jobsite so they can communicate with the customer and the general contractor quickly. They have the building drawings on their iPads so they can see the plans.
"We're doing some of that to differentiate ourselves because that's the wave of the future. Buildings still have to get built by brick and mortar, but that delivery method is going high-tech."
Great team: Whicker said Electric Plus might not always be the cheapest contractor, but "we try to make customers understand that we're giving them a quality project, a safe product. You don't want a contractor who had somebody who got hurt on your jobsite. We have some quality people who know the business and know the hard stuff. We like the hard stuff. We want to do the stuff that other people are scared of."
High honors: The same week Electric Plus found out that it made the Fast 25, it also received the Contractor of the Year Award from Top Notch, the labor/management association representing union construction in the state of Indiana.•
Check out more of IBJ's ranking of Indy's fastest-growing companies.
Please enable JavaScript to view this content.