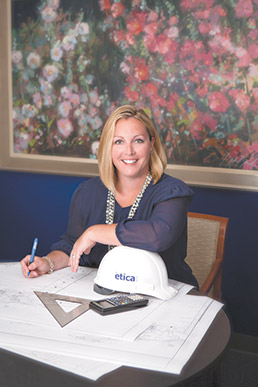 CEO Jessica Nickloy has built a client base that ranges from Citizens Energy Group to the city of Indianapolis. (Photo courtesy of The Etica Group Inc.)
Revenue Growth FY 2013 to 2015: 71%
Continuous growth: New customers, repeat business and a mild winter are among the factors Etica Group CEO Jessica Nickloy credits for the architecture and engineering services firm's return to the Fast 25 for a second consecutive year.
"Our business development processes have hit full stride, and our groundwork has started to pay off," she said. "That's helped increase our sales and our business."
Consistent customers: Etica—which specializes in architecture, engineering design, construction inspection and building envelopes—is in its 11th year. Its clients include the Indianapolis International Airport, Citizens Energy Group, the city of Indianapolis and other engineering firms.
What it's working on: At the airport, Etica's projects include building-envelope work, a new lounge for taxi drivers and some security projects. For the city of Indianapolis, Etica was part of phase one of the Eagle Creek Parkway Trail, which features a pedestrian bridge over Interstate 74, and a lot of curb and sidewalk work.
WBE: Etica is Women's Business Enterprise-certified, which Nickloy said helps—to a point.
"But I don't want to depend on that," she said. "I want people to hire us for the work that we do, and that's just kind of a bonus. It might get us in the door. It's up to us to stay in that door."
Nickloy said the company is getting pre-qualified for Indiana Department of Transportation work and has submitted an application for Disadvantaged Business Enterprise certification.
Active in the community: Nickloy said participating in trade groups such as ACEC Indiana and Indianapolis Construction Roundtable and doing charitable work also have helped grow the business. In March, she was a Make-A-Wish Foundation honoree through its Women Inspiring Strength & Hope program. She was one of 16 women who raised $8,000 to help grant children's wishes.
"All those things help your business and are also good for the community, too," she said.•
Check out more of IBJ's ranking of Indy's fastest-growing companies.
Please enable JavaScript to view this content.