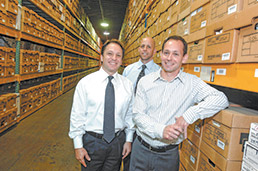 Brothers Steve, Scott and Lenny Nahmias have been able to grow their company rapidly, despite competition from large firms like Office Depot and Staples. (IBJ file photo)
Revenue Growth FY 2013 to 2015: 70%
More of the same: Office360's long-term strategy as a contract stationer has been to grow organically and make small, strategic acquisitions. Company principal Steve Nahmias said that plan continues—and that's why Office360 is again among the Fast 25. In April 2015, Nahmias' company bought northern Indiana-based Commercial Office Products & Supply Inc., and on April 1 of this year it acquired Rosa's Office Plus in Richmond.
Similar businesses: "We're streamlining what they're doing by adding our technology and leaving them with a local presence across stock and customer service," said Nahmias, who runs the company with his brothers Lenny and Scott. "So we continue to offer those markets local customer service and local customized delivery, but then they become part of Office360."
Fierce competition: Nahmias said Office360 is "the overall low-cost provider." Office Depot and Staples have a short list of items that are really cheap, he said, "and then at the end of the day you pay a lot of money for everything else." Another difference: Office360 offers local customer service and, "in most cases, we're delivering product on our trucks with our people, where in Indiana, [the competition is] mostly using couriers and UPS. We offer a customized delivery solution."
Emerging product lines: Nahmias said among the products his company is delivering more of are janitorial and break-room supplies, including coffee.
"We'll continue to emphasize that," he said. "We've been doing that for a while, but we're really beginning to get some good traction."
Local, local, local: Being an Indiana company has its advantages, Nahmias said, because "more and more Indiana companies and people are beginning to look at dealing with local companies, be it an office supply company or a restaurant or any service business. They're looking at buying local as a real service advantage. And we ourselves try to buy local as much as we can."•
Check out more of IBJ's ranking of Indy's fastest-growing companies.
Please enable JavaScript to view this content.