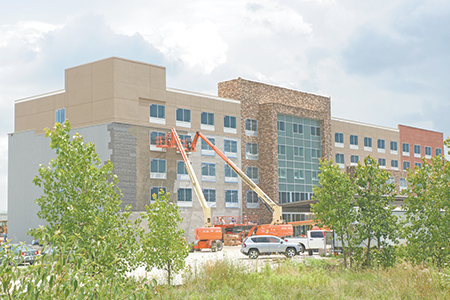 It was only a year ago that Hamilton County was desperate for more hotels, as existing overnight facilities were maxed out.
Visitors were regularly pushed to surrounding communities, including Indianapolis, Lafayette and Kokomo. Westfield in particular struggled as it waited for a Holiday Inn Express to open in a former Rodeway Inn, which is still the city's only overnight option.
Hoteliers took notice and have been flocking to northern suburb communities ever since. Nearly 10 projects are in various stages of development, including three in Westfield.
Once the announced hotels are open, Hamilton County's room count could increase 35 percent.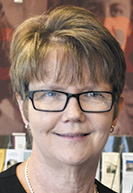 Myers
"I don't think I've ever seen this much growth in our area," said Brenda Myers, president and CEO of Hamilton County Tourism Inc. "Just when I think it will calm down, I get another call."
The growth is attributed in large part to the success of Westfield's Grand Park Sports Campus, which had 1.3 million visitors last year and contributed 62,000 hotel room nights in central Indiana. But industry leaders say it's also in response to an improved economy that has prompted an increase in leisure travelers and business trips.
"Demand has picked up, and supply hasn't caught up with it yet," said Jeffrey Brown, CEO of Indianapolis-based Schahet Hotels Inc.
Even if all the projects are completed as proposed, bringing almost another 1,200 rooms to Hamilton County, industry leaders are optimistic that the market will absorb the inventory.
"I do like the pace at which things are coming on board," Myers said.
Hotel developers describe the Hamilton County and broader Indianapolis hotel market as "very stable" and "very functional." Grand Park has influenced some projects, but it's typically only one of several factors considered.
"Grand Park has definitely created demand in the whole north side of Indianapolis," Brown said. "But you have to look at the economy right now, and the economy is a lot better. For us to do better, the economy needs to be better."
Occupancy rates and average room prices in Hamilton County are doing well, which Myers said are two indicators of how hotels are performing.
Room prices have been on a steady increase since 2010. The average is now $110.54, up from $106.97 last year.
Through the end of May, Hamilton County hotels had an occupancy rate of 66.4 percent, slightly lower than the 68.6 percent for all of 2015. But the 2016 rate is expected to increase once the summer months are figured in. And occupancy is more than 10 percent higher than in 2010.
Current weekday occupancy is about 67 percent, and weekend, 73 percent, Myers said.
"That's a very healthy occupancy rate," she said. "It's very much an indication of a healthy market."
She said occupancy rates will dip as the number of rooms grows, because hotels take time to ramp up bookings, but "it won't be horrible."
Myers cited the new Drury Plaza Hotel near 96th Street and U.S. 31 in Carmel as a reason for her optimism. In June, the Drury opened with more than 300 rooms—and it immediately filled 100 of those.
"That feels pretty good to me," she said.
Next on the list to open is the Holiday Inn Express & Suites in Noblesville, near exit 210 off Interstate 69. The hotel will provide more than 120 rooms and some small meeting space. It's expected to open in the fall.
In 2017, another 500 rooms are on tap to become available.
The $12.2 million Hampton Inn being developed by Holladay Properties and Schahet Hotels is under construction near State Road 32 and U.S. 31 in Westfield. It's expected to open in April.
"Right now, there's no hotels in Westfield really," said Brown, the Schahet CEO. "We think we're out in front of everybody else."
A $17 million Cambria Suites had been expected to open in Westfield in time for this summer's season at Grand Park, but the hotel hasn't even broken ground.
Cleveland-based Ceres Enterprises LLC and The Orlean Co. announced plans for the hotel in 2014. As currently designed, it would have 150 rooms and 5,000 square feet of meeting space and take a year to build.
The Haven at Grand Park, a proposed five-story hotel with 200 rooms, is also behind schedule. Westfield selected Byrd Hotel Enterprises, an affiliate of Jonathan Byrd's, last year to construct the lodging facility on 5.26 acres of city-owned property immediately west of the indoor soccer arena.
Initially, the city had wanted the hotel to be completed about the same time as the soccer facility. But it's been delayed at least in part because developers had to refocus the engineering and scope of the project (initially, it was to have only 160 rooms), city officials said.
Meanwhile, the soccer facility—now known as the Grand Park Events Center—is nearly finished. Presumptive Republican presidential candidate Donald Trump recently had a rally at the venue, and it officially opens at the end of the month.
In Carmel, which regularly accommodates overnight Grand Park visitors, three hotels are on the table but only one is anticipated to open next year.
The $11.5 million Fairfield Inn & Suites being developed by Schahet Hotels will offer 100 rooms and could open by August 2017, according to Brown.
The most recently announced hotel—a 99-room Fairfield Inn & Suites in Fishers—could also open next year.
Jeff Good, president of Valparaiso-based Good Hospitality Services LLC, said he hopes to receive all the necessary approvals in August and break ground shortly after that. Ideally, he wants to be open before the Indianapolis 500 in May.
He said his company is bullish on the Indianapolis market and had been eyeing Fishers "for a long time."
In 2018, a 199-room Embassy Suites with a 20,000-square-foot conference center in Noblesville and 99-room Hyatt Place in Carmel are scheduled to open.
"It's just such an exciting time," Myers said.•
Please enable JavaScript to view this content.