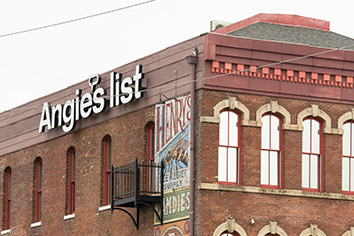 After lowering its 21-year-old paywall July 13, home-services giant Angie's List Inc. is on a mission to capitalize on the millions of unique web visitors previously turned away by its "members only" barrier.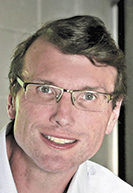 Durchslag
The expected influx of new users should please service providers who advertise with the Indianapolis-based company, and CEO Scott Durchslag said on June 12 that he was impressed with the results from a few pilot markets. But allowing free users might present some problems for Angie's List, said some analysts who believe the free service alone won't be enough to reignite declining revenue.
Angie's List debuted in its more than 250 markets the so-called freemium model, which for the first time allows non-paying members to read and write service-provider reviews, among other things. The company still offers paid subscriptions for premium features, including complaint resolution support.
The goal is to boost user traffic—which has been growing slowly lately—in order to spur service-provider spending, which drives 80 percent of Angie's List revenue. But the move might diminish the quality of its member pool somewhat, observers said, and the company still has its work cut out for it in terms of seamlessly helping service providers convert Angie's List users into customers.
"Ultimately it's about conversion, and that's helped by creating a user interface that's very engaging and reduces friction between the consumer and service provider," said Kerry Rice, an analyst with New York-based Needham & Co.
"So I don't know that just reducing the paywall means automatic success. I think there are a lot of steps along the way, a lot of moving parts, but this is the first part."
Angie's List is among the largest home-services marketplace companies in the United States, boasting $344 million in 2015 revenue, 3.3 million paid members and more than 1,800 employees. At the end of the first quarter, it was associated with nearly 55,000 service providers, who provide the company with the majority of its revenue in the form of paid advertising and fees Angie's List collects for services sold to consumers online.
Quarterly revenue had been growing steadily since the firm went public in late 2011, but revenue growth started slowing in spring 2014 and began declining on a quarter-over-quarter basis in mid-2015. The company's most recent high-water mark for revenue was $87.3 million in the second quarter of last year, and that sum fell in each of the next three quarters.
Durchslag took the helm in September 2015 and vowed to reaccelerate revenue growth amid growing investor angst. In his first 10 months, he was able to fend off activist-investor demands for a sale, steer the creation of a new technology platform that hosts the Angie's List site, and spearhead one of the most significant business-model shifts in the company's history.
"It's never easy for a public company to change its business model," Durchslag told IBJ, adding that he was convinced to make the change largely by data pointing to millennial attitudes about membership.
"Ninety percent of millennials were saying as a matter of principle they would never, ever pay just to read a review. When you have that kind of clarity—I mean, you can try and fight gravity if you want to, but I'm not going to do that. I'm going to embrace it."
Drawbacks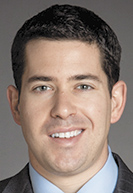 Helfstein
One concern about the freemium model is that it might attract consumers that service providers deem low-quality. Jason Helfstein, an analyst with New York-based Oppenheimer & Co., said under the old model, the idea was that paying members probably had more disposable income and were probably more likely to convert.
"If there's no paywall, you're going to have, at the margins, some lower-quality consumers," Helfstein said. "So as a result, you may see potentially lower conversion rates with the vendors, or maybe people haggle with the vendors over price. So the vendors may be getting more leads, but the quality of those leads may be somewhat lower."
Another drawback is the loss of paid members to the free membership tier.
Membership revenue as a percentage of overall revenue has already been in decline, accounting for 44.1 percent of revenue in 2012 but just 19.7 percent last year. The $68 million the company pulled from members in 2015 could be tough to grow or maintain with a free option.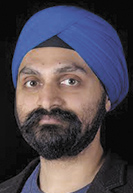 Singh
"I think [the new model] might impact revenue in the short term," said Manpreet Singh, founder and president of Washington, D.C.-based TalkLocal, another home-services marketplace company.
"But because of the amount of new members that are going to start using it, I think you'll start to see more revenue come from the contractor side."
Durchslag said the benefits of having more members outweigh the drawbacks of paying members' ditching their subscriptions. He also said there's tremendous value at the paid tiers—silver, which runs about $25 a year, and gold, which runs about $100 a year.
"If you want the service quality guarantee … or you want to know you're getting a fair price, you need to be at the silver level," Durchslag said. A gold membership buys enhanced levels of Angie's List customer service when issues arise.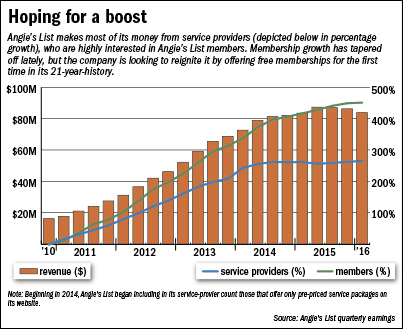 Incentives to pay
To entice members to continue paying, the company is getting ready to roll out other premium features, including a scheduling tool, project financing through partnerships, and a home-emergency-services line for same-day response to crises like flooded basements.
"I do not think everyone is going to want it for free," Durchslag said. "I think there are going to be segments that are more discriminating and value those specific services that address maybe previous bad experiences that people had."
Over the years, Angie's List has had a leg up over Google and other competitors, most of whom already allow people to read and post reviews for free. Its paywall served as somewhat of a barrier against people with unfounded gripes or competitors looking to take cheap swipes at one another. Durchslag said he doesn't expect Angie's review quality to change.
"There's going to be no change whatsoever in the rigor of our reviews process," he said. "We still don't allow anonymous reviews … and we still don't allow companies to review themselves or their competitors."
Rice, the Needham & Co. analyst, said Angie's List, even after the freemium rollout, still has work to do to spark revenue growth. He said there's room for progress with respect to "removing friction" from the buyers' journeys, including finding service providers, booking an appointment, "and even potentially paying online."
"I think this technology exists out there, and integrating it into a user interface would make me a lot more likely to not only use the service, but use it frequently," Rice said.
Durchslag said he knows the work isn't finished.
"Now that we've got the platform out, we've got the paywall down, we've got the existing members all migrated into their new tiers, and we're now adding new users," he said. "We will now focus on expanding these new services out to deliver more value."
Angie's List stock has been sliding over the past several weeks, dipping from about $9 a share in early June to about $6.40 a share in early July. It got a slight pop last week after the company announced the freemium model, closing July 13 at $7.05 a share.
Helfstein, of Oppenheimer, said he believes the summer swoon relates to IAC/InterActiveCorp's failed takeover bid last fall and reports of a second offer earlier this year that never materialized. The so-called Brexit vote last month probably pushed investors bearish on Angie's List to dump the stock, he said. Angie's List turned its first annual profit last year, but that might be hard to repeat if revenue stagnates and expenses grow as the company markets its new business model.
Rice said some investors might be OK with that. "It was really important to reach profitability last year because, if growth is slowing, you've got to give investors something," he said.
"Now, as you go forward, I think investors would be disappointed if [Angie's] lost profitability, but they might be willing to give up some of that for faster growth."•
Please enable JavaScript to view this content.