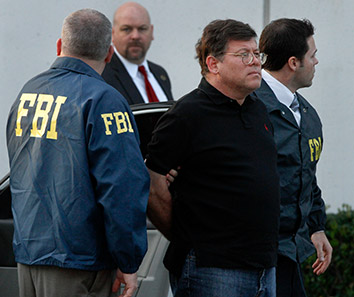 The Indiana Supreme Court on Wednesday disbarred Indianapolis attorney and infamous Ponzi scheme leader Tim Durham because of his "fraudulent looting of funds entrusted to him by investors." Durham is currently serving a 50-year federal prison sentence for 10 counts of wire and securities fraud.
Durham was convicted in 2012 for his role in a complex scheme to defraud investors in his Akron, Ohio-based Fair Finance Co.
A federal jury found he looted the company to support a lavish lifestyle and other failing businesses. Investors in the company lost more than $200 million when the company closed in November 2009. He was convicted on 12 felony counts related to the scheme.
The 7th Circuit Court of Appeals overturned two of the 12 counts against Durham in 2014, leaving in place eight counts of wire fraud, one count of securities fraud, and one count of conspiracy to commit wire and securities fraud. He appealed his 50-year sentence last year, but it was upheld.
The Indiana Supreme Court Disciplinary Commission charged Durham with violating Indiana Professional Conduct Rule 8.4, which pertains to misconduct: "committing criminal acts that reflect adversely on his honesty, trustworthiness, or fitness as a lawyer" and "engaging in conduct involving dishonesty, fraud, deceit or misrepresentation."
The hearing officer on the action, Marion Superior Judge Kurt Eisgruber, recommended Durham, who is already under an order of interim suspension related to his case and nonpayment of dues, be disbarred.
The justices agreed, releasing a 3-page per decision Wednesday disbarring Durham in Indiana. He was admitted to practice in 1987.
"Respondent's convictions on 10 felony counts involved an ongoing scheme of wire and securities fraud that spanned several years and caused over $200 million in losses to thousands of victims. We have consistently imposed disbarment where an attorney exhibits a pattern of conversion of client funds," the opinion states. "We see no reason to reach a different result with respect to Respondent's fraudulent looting of funds entrusted to him by investors."
Durham received his law degree from Indiana University in 1987 and practiced law at Indianapolis firm Ice Miller.
Please enable JavaScript to view this content.