An entertainment venue combining a movie theater and bowling alley is planning to open at Hamilton Crossing Centre in Carmel.

Frank Theatres CineBowl & Grille would include 16 lanes of bowling, 10 auditoriums, a video gaming area and a restaurant featuring indoor and outdoor seating, according to plans filed with the city of Carmel.

It would be the first Indiana location for the Jupiter, Florida-based Frank Entertainment Group, which operates Frank Theatres, Revolutions bowling alleys and CineBowl & Grille. (Click image below for wider view.)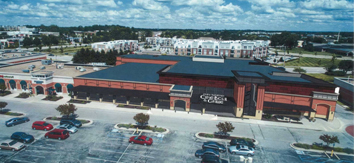 CineBowl & Grille, pictured here in a rendering, would require a small expansion of Hamilton Crossing's center building. (Image courtesy city of Carmel)
Only three other CineBowl & Grille locations exist — one each in Florida, Virginia and North Carolina.

The project still requires approval from the city. The Carmel Plan Commission is expected to discuss the proposed design at its meeting Aug. 2.

Earlier this year, Kite Realty Group Trust told investors it planned to add a movie theater to its development, which sits east of U.S. 31 along Pennsylvania Street and Carmel Drive, but did not reveal any details. A Kite representative did not immediately respond to a request for comment Monday morning.

CineBowl & Grille would occupy the southern portion of the Hamilton Crossing's center building, in space previously used by Office Depot and currently partially occupied by Jason's Deli.
A spokesperson with Jason's Deli did not immediately have information on whether the restaurant would be closing or moving.
The building would also be slightly expanded, but would not impact the footprint of the existing parking lot. An exact square footage of the entertainment venue was not listed, but, according to Kite's site plans for Hamilton Crossing, the existing vacant space in that building is more than 40,000 square feet.
According to Frank Entertainment's website, all CineBowl & Grille locations feature reclining chairs in the movie auditoriums, full-service dining for movie-goers, a luxury cocktail bar and boutique-style bowling lanes.
The restaurant menu includes salads, soups, tacos, sliders, burgers, sandwiches and pizza.
Hamilton Crossing includes Chase Bank, Max & Erma's, Le Peep, Subway, Moe's Southwest Grill, Toppers Pizza, Ossip Optometry and Yogurtz, to name a handful of tenants.