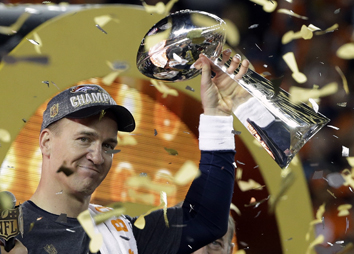 The NFL says it found no credible evidence that Peyton Manning was provided with HGH or other prohibited substances as alleged in a documentary by Al-Jazeera America last fall.
The league said the quarterback and his wife fully cooperated in the seven-month investigation, providing interviews and access to all records sought by investigators. Manning vehemently denied the allegations when they were made late in the season.
Manning retired from the NFL a month after Denver's 24-10 win over Carolina in Super Bowl 50.
The NFL is continuing its investigation into allegations made against other NFL players in the documentary, which the league said involves "different lines of inquiry and witnesses."
In December, Al Jazeera reported that an intern at an Indianapolis anti-aging clinic was secretly recorded suggesting that Manning's wife received deliveries of human growth hormone in 2011. Manning, then with the Colts, was rehabbing from neck surgeries.
The intern, Charles Sly, recanted his statements, which were recorded without his knowledge. He said they were fabricated in an attempt to impress a potential business partner
___
Please enable JavaScript to view this content.