Dave Ricks, the incoming CEO of Eli Lilly and Co., will begin guiding the company during a period of relative calm compared with the trying times John Lechleiter navigated during his eight years at the helm.

But even though Lechleiter, 62, has successfully restocked the company's R&D pipeline after a barrage of patent expirations on blockbuster drugs, Ricks said this is no time to let up.

Ricks—a 20-year company veteran who currently is a senior vice president and president of Lilly Bio-Medicines—said the next wave of challenges will be external, as Lilly works to compete in an increasingly regulated, increasingly competitive global health care environment.

"I think one of the roles a CEO can really do for a company is, make the outside world relevant inside—and you can count on that being a key focus for me," Ricks said on July 27, the day the company announced he would succeed Lechleiter as president and CEO in January.

And Ricks, 49, is not the type to rest on his laurels, anyway.

During his first annual performance evaluation with Lechleiter, Ricks recalled, the CEO told him, "You seem to have an overdeveloped sense of urgency."

"I thought that was an interesting turn of phrase, meaning that I'm very impatient—and that's certainly true; you can ask my wife. I've got a high motor."

In the mid-2000s, when Ricks was working at Lilly Canada, his boss suggested he arrange a meeting with Lechleiter, who had risen to chief operating officer and would be an important person for Ricks to know as his own career advanced.

As Ricks remembers it, Lechleiter's message to him during that meeting might be summarized as, "Not so fast!"

"He said, 'You know, I always found it useful to really just focus on the job I was in'—which I took as, 'OK, go back to your desk and add some value.' Honestly, I believe in that as well."

Ricks said employees will notice he's "a little more blunt" than Lechleiter, a consummate people person known for remembering everyone's name, right down to the workers in the cafeteria.

Part of the reason for his differing approach, Ricks said, is that he's not as naturally gifted in interpersonal skills as Lechleiter. But part also is that he functions best when problems are laid bare for discussion.

"I've never been able to solve problems people aren't talking about—so we need to talk about them," Ricks said.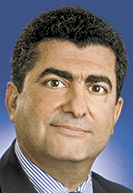 Tapiero
Solving problems is one of Ricks' strong suits, said Jacques Tapiero, the former president of intercontinental business for Lilly and Ricks' former supervisor. Tapiero retired from Lilly in January 2014.

Tapiero described Ricks as a good communicator who is "extremely people-focused" and knows how to assess situations and figure out what needs to be done.

When Ricks worked at Lilly Canada, the division was trying to fend off a patent challenge to the blockbuster antipsychotic Zyprexa, Tapiero said. Ricks immersed himself in the issue—"After six months, he knew more than some of the lawyers," he said.

Lilly Canada ultimately lost, but Ricks was able to come up with a restructuring plan that successfully moved the company past the revenue hit.

Based on Ricks' performance in Canada, Tapiero promoted him to China. The company at the time had only a small presence there—a single manufacturing plant—but had big growth ambitions.

It was Ricks who came up with the China plan—not just what Lilly should do, but how to do it.

"He really built the foundation of a very strong business in China," Tapiero said.

"He learned the business very quickly, and very quickly he was in a situation to propose a very good strategy."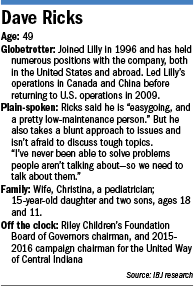 Ricks' success there led to his 2009 promotion to president of Lilly USA, the company's largest business unit.

Morgan Stanley analyst David Risinger described Ricks as a "strong leader who investors already thought could be the next CEO."

In a report, Risinger said Ricks' background makes him well-suited for the top job. In his current role, he oversees the therapeutic areas of neuroscience, cardiovascular, urology, musculoskeletal and autoimmunity. He also oversees Lilly's global marketing, pricing, reimbursement and access efforts.

"We view the internal CEO promotion of David Ricks as evidence of Lilly's deep talent bench, leadership development, and succession planning," Risinger wrote.

Lechleiter said in the company's second-quarter earnings release on July 26 that "Lilly is in the midst of one of the most productive periods of product launches in our company's history." The company is working on 14 products that have potential to come to market over the next seven years.

Part of Ricks' job will be to usher those products through the pipeline. Lechleiter said Ricks "is well-suited to help Lilly capitalize on the opportunities before it, as well as to confront the inevitable challenges that lie ahead."

Ricks said one of his areas of focus will be to help Lilly better compete in the global marketplace, as overall health care spending slows and governments increasingly intervene to set prices rather than allow market forces to hold sway.

The slowdown in growth comes after years of expansion, Ricks said. He cited Europe as an example of the sluggishness, where Lilly has seen little or no growth in most markets since the Great Recession.

Government reform and intervention pose other challenges. The Affordable Care Act is one example, Ricks said, but the United States is not the only country where government oversight is increasing.

"We have a flavor of [the Affordable Care Act] in every market in the world."

In response, he said, Lilly needs to find ways to both compete within the structure and help shape public policy.

In particular, Ricks said, pharmaceutical companies need to do a better job of making a case for themselves.

Medicines help people improve and extend their lives and avoid hospitalizations and surgeries—and drugmakers need to tell this story, he said.

"Going forward, we need to focus on the challenge that exists externally. Health care systems around the world are struggling to pay for the benefits they provide. I think somehow in there, medicines have been pointed at as one of the causes of the problem. But we firmly believe that we're part of the solution," Ricks said.•