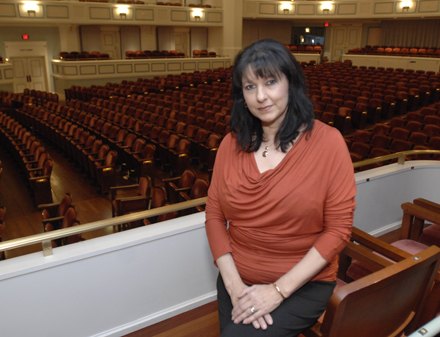 Tania Castroverde Moskalenko, CEO of The Center for Performing Arts and the Great American Songbook Foundation in Carmel, plans to leave the position for a job running the Auditorium Theatre in Chicago.
Jeffrey C. McDermott, chairman of the board for the Great American Songbook Foundation, has agreed to serve as interim CEO of the center and foundation, according to an announcement Thursday morning.
Moskalenko joined the Center in 2012 to replace its first CEO, Steve Libman, who abruptly resigned in July 2011 after the center's inaugural half-season. Over her four-year stay, Moskalenko has helped stabilize the sprawling arts organization—which has relied on millions of dollars in annual support from the city of Carmel since its venues debuted in 2011—and find a sustainable mix of programming.
"I am very proud of the progress we have made together as an organization and am glad to have been a part of the milestone fifth season we just presented," Moskalenko said in a press release. "I know that I leave the Center in a much more secure position poised for solid growth in the years to come."
The city of Carmel owns the $175 million arts campus, which Moskalenko and her team operate through a private not-for-profit. The Center for the Performing Arts is home to the 1,600-seat Palladium concert hall, the 500-seat Tarkington Theater and 200-seat Studio Theater.
In January, IBJ reported that the center had finished two consecutive seasons with a surplus. The organization ended fiscal 2015 with a surplus of $260,445 on revenue of $8.71 million; fiscal 2014's surplus was $176,930.
"That is good news for our donor base, because they know we are being good stewards of their money and we are investing it wisely," Moskalenko said at the time. "We've done a lot of work to be very lean."
Revenue from building and room rentals increased 114 percent from fiscal year 2014 to fiscal 2015. Individual donations increased 16 percent, and the length of time between a person's first visit and first contribution decreased from 36 months to 28 months.
In 2015, it also received about $3.41 million from the city of Carmel, predominantly for operational support ($2.5 million) and to cover expenses such as utilities and facility maintenance and repairs. The city had chipped in $2.35 million for the center's first half-season in 2011 and then $5.5 million for the second, full season in 2011-2012 before reducing its annual contribution.
"It was very important in these first years to have someone with Tania's blend of talents and professional leadership guide the organization through some strategic analysis that set the focus for years to come," Carmel Mayor Jim Brainard said in the release.
"It is not always easy to work within the framework of a municipally owned venue, make tough decisions in order to control spending and at the same time gain corporate and community support. However, Tania was able to help us through the more difficult early years," Brainard said.
Moskalenko's entrance in 2012 coincided with the development of a strategic plan for the center to boost ticket revenue, better define its venues and work toward long-term financial stability. Refinements during Moskalenko's tenure included streamlining the management team, adding an events manager and a vice president of development, and finding new ways to draw the community into the facility to talk about the arts.
Moskalenko earned compensation of $226,591 in the 2013 fiscal year ending June 30, 2014, according to the most recently available federal tax information for not-for-profits.
The announcement did not include a definitive date for Moskalenko's exit, saying that the transition in leadership would be finalized before the 2016-17 season "is in full swing." She will take on the role of CEO of the 127-year-old Auditorium Theatre of Roosevelt University at the intersection of Michigan Avenue and East Congress Parkway.
There are six resident companies at the center including Actors Theatre of Indiana, Booth Tarkington Civic Theatre, Carmel Symphony Orchestra, Central Indiana Dance Ensemble, Gregory Hancock Dance Theatre and Indiana Wind Symphony.
The affiliated Great American Songbook Foundation is located in the Palladium. It hosts a national vocal competition for high school students, preserves historic artifacts and maintains a musical research facility and archive.
 
Please enable JavaScript to view this content.