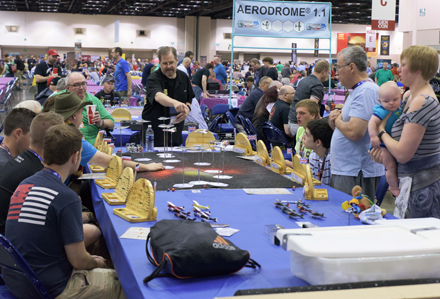 Total attendance for last week's Gen Con show in Indianapolis inched up over last year's record numbers, according to event organizers. And with next year marking the 50th anniversary of the show, they're calling for more lodging options in Indianapolis.
"It will be a historic, once-in-a-lifetime, destination event for gamers around the world," Jake Theis, Gen Con LLC senior marketing manager, told IBJ in an email. "The performance of that convention will set a new standard on the scale and scope of Gen Con.
"Seeing Indianapolis restaurants, hotels, bars, and other local venues ramp up their support of the show has developed a de facto convention experience throughout all of Indianapolis, so as more venues decide to embrace the fun of Gen Con, our ability to grow in Indy increases. That said, more lodging options could attract more out-of-town guests to attend."
This year's show took place Thursday through Sunday at the Indiana Convention Center and Lucas Oil Stadium. Gen Con has a contract to take place in Indianapolis through 2020. The 2017 event is scheduled for Aug. 17-20.
The number of "unique" ticket buyers declined slightly this year to 60,819 from 61,423 in 2015. However, the total number of people who attended the show each of the four days—which Gen Con considers its total attendance—rose to 201,852, up 2.1 percent from last year's total of 197,695.
The sale of four-day badges for the gaming show was up 4 percent, Gen Con officials said. The number of exhibitors surged 26 percent to 518.
Theis called this year's attendance "a great continued trend."
"2016 was a transformative year," he said. "We changed our badge-pricing model and expanded our attractions to create even more value for multi-day attendees. Additionally, we have attempted to incent more attendees to purchase badges earlier" for better event planning.
The show, which is one of the city's biggest conventions and has an economic impact of more than $70 million, utilized parts of Lucas Oil Stadium this year for the first time. That use was seen as an important litmus test for Visit Indy to promote the space for future conventions and corporate gatherings.
"We were very happy with the attendee experience in Lucas Oil Stadium," Theis told IBJ. "In retrospect, adding an arcade experience through the pedestrian connector and anime and open gaming in Lucas Oil's hall spaces created a great artery for connecting the convention experience to the stadium experience."
Gen Con has more than doubled in size since 2010. Gen Con officials are happy here, Theis said, but again added the show would benefit from more downtown and suburban hotels.
"Gen Con does continue to add additional suburban inventory," he said. "However, there is demand for both more downtown and more suburban housing. Additional hotel spaces would greatly help us attract more out-of-town guests, as downtown lodging is at or extremely close to maximum capacity.
"More lodging options would allow us to expand," he said. "However, we want to make sure that the convention experience remains first-class while we grow."
Chris Gahl, vice president of Visit Indy, said tourism leaders are aware of the city's hotel shortcomings for its biggest events.
"Many people are surprised to learn that Marion County actually has 1,000 fewer hotel rooms today than in 2011," Gahl told IBJ. "Whether it's Gen Con, the Performance Racing Industry [convention], FFA or an NCAA Final Four, we know our larger customers want and need more hotel rooms.
"Determining the right number of rooms to add is a balancing act. We need to help keep our largest events in Indy, yet we don't want to weaken our overall hotel market by adding hotel rooms that won't be used aside from when our larger events are in the city."
Please enable JavaScript to view this content.