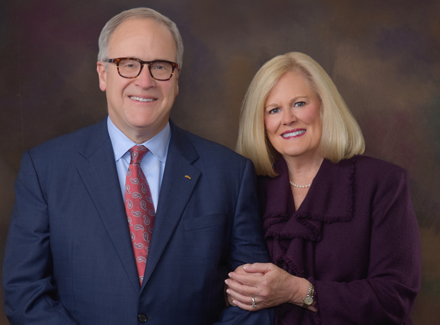 Eli Lilly and Co. CEO John Lechleiter and his wife, Sarah, have pledged a record-setting $5 million to the United Way, the not-for-profit's local affiliate announced Thursday morning.
The gift will be matched the Eli Lilly and Co. Foundation, raising the total gift to $10 million.
The United Way of Central Indiana will receive $8 million from the donation, the United Way said. The other $2 million will be directed as matching grants to United Way affiliates in Brazil, India, South Africa and Spain.
The United Way of Central Indiana said the donation it will receive is the largest ever from an individual donor in the organization's 98-year history.  
The Lechleiters have been responsible for more than $15 million in donations to the United Way to date through their personal giving and matching grants, the organization said.
John Lechleiter, 62, announced late last month that he was planning to retire as Lilly's CEO, president and chairman at the end of the year. He has been the pharmaceutical giant's chief executive since 2008. He made about $16.6 million in total compensation in 2015.
Sarah Lechleiter became a founding member of United Way's women's leadership giving group, Women United, in 2003 and is leader of the organization's Women of Tocqueville group.
"We are honored to provide this commitment to United Way," the Lechleiters said in a written statement. "We believe that United Way is uniquely positioned to address pressing community needs in central Indiana and in communities around the globe. With our commitment, we hope to encourage others to contribute to this vitally important organization. We're also deeply grateful to the Lilly Foundation, which matches Lilly employee and retiree donations to United Way dollar-for-dollar."
The local United Way said a significant portion of the gift is designated toward improving and expanding early childhood education and also to the expansion of the Center for Working Families network in central Indiana.
"We extend our deep appreciation to Sarah and John Lechleiter for their ongoing generosity and longtime support of United Way's work in the United States and around the world," said United Way Worldwide CEO Brian Gallagher. "Sarah and John exemplify the spirit of philanthropy each and every day by offering their time, talents and resources to improve lives and build stronger communities."
 
Please enable JavaScript to view this content.