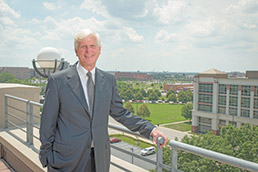 (IBJ photo/Eric Learned)
Indiana Farm Bureau Insurance
Senior Vice President and CIO
Major company achievements during tenure: Indiana Farm Bureau brings in $800 million a year in premiums. As the second-biggest property-and-casualty insurance company in the state, it generates $600 million in that area alone. To work more efficiently, Clancy and his team replaced and consolidated its policy management systems, and implemented company-wide imaging and workflow systems as well as a voice communication system. "A lot of insurance companies have older software systems," he said. "Where we used to have seven or eight billing systems, we now have one." But such improvements aren't cheap. "Each of those consolidation projects were $10 million-plus."
Recent tech problem solved: "A lot of our systems had been mainframe-based and used COBOL," Clancy said, "but we needed to transition folks from old technology to the new." The solution: an on-site course that spans one to two years, culminating in the staff person's taking the Oracle Certification test. Such training is necessary in part because new talent for the approximately 200-member IT team can be difficult to come by. "I've been around a long time," Clancy said. "And it's probably as tough as it's ever been. We have a new phenomenon, too, with lots of people who lie about their qualifications. It's an issue we haven't seen to this degree."
Challenge faced or achievement that only tech people would understand: "Building out our new services-based application architecture at the same time that projects are trying to use it."
First computer: Gateway 2000. "Few people in the business today would recognize that name."
Education: bachelor's in general management from Purdue University
The road to here: Clancy's first job out of school was as a systems engineer for NCR Corp. He then spent 20 years with USA Funds/USA Group, beginning as a systems engineer and working up to CIO. After a merger, he stayed on as Sallie Mae CIO for three years. Clancy said that, while there can be a learning curve when changing industries, "the problems to be solved are largely the same. At my level, it's about forming teams and getting good people under you and getting them to work well. Understanding the tech enough to ask good questions is important, but people who work well together is the key."
Mentor/inspiration: His longtime boss at USA Group, Ted Pollack. "He was very influential to my development through the years. He asked a million questions all the time and that helped shape my style. By asking questions, you know if the person making decisions knows what they are doing."
Go-to websites: For technology and the insurance industry, Gartner.com, Go.forrester.com, Celent.com and Novarica.com.
Favorite gadget: The Nest security camera, which has proven useful in helping his brother-in-law. "He'll get up in the middle of the night and sometimes doesn't know it's not time to get up. We can tell him to go back to bed without having to get up."
My job would be easier if … "technology trends didn't change every 15 minutes."•
Check out more CTO honorees..
Please enable JavaScript to view this content.