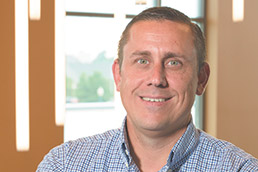 (IBJ photo/Eric Learned)
Meyer Najem Construction LLC
Executive Vice President, Information Technology
Major company achievements during tenure: Specializing in health care, senior living, commercial, church/religious, government and institutional markets throughout the Midwest, Meyer Najem has seen substantial growth across all areas of the firm. Since 2010, it has become one of Engineering News Record's "Top Regional Contractors" and conducts business in seven states. Notable projects include Westfield's Grand Park Sports Campus and Kokomo's Municipal Baseball Stadium as well as in the health care market, with multiple Veterans Affairs hospitals, including the group's largest project to date, VA Jacksonville. Recently named one of IBJ's Fast 25, Meyer Najem built a new headquarters in the heart of Fishers' Nickel Plate District.
Recent tech problem solved: "We were able to customize a system to track employee performance and key performance indicators with the goal of increasing employee communication and career paths," Weaver said. The result: "We are now able to provide a friendly environment for employees' appraisals, communication and feedback across the organization." He also helped create a reporting and tracking mechanism for the firm's safety department.
Challenge faced or achievement that only tech people would understand: "I got heavily involved with Timberline—now called Sage 300 CRE—and learned Crystal Reports," he said. "This allowed us to use Timberline in ways others weren't to deliver information to clients and project team members."
What the future will bring: "More information modeling," Weaver said, adding that construction know-how will still be key. "Projects are a lot more complex than they used to be. You can send any quiz kid computer person out there, but if they haven't swung a hammer—if they haven't built stuff—the project will struggle."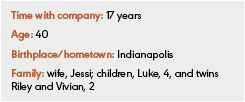 First computer: An early-model IBM. "Growing up, I babysat for a kid that had a computer and he didn't use it. So we set up a deal where I would babysit for the summer and in exchange they gave me the computer." Weaver remembers using the word processor … then taking it apart just to see how it worked. "I ended up breaking it, but continued to babysit."
Education: bachelor's in building construction management from Purdue University
The road to here: An anomaly in the IT world, Weaver's entire career has been with one company, starting as an intern. "While I was an assistant, one of my responsibilities was to update all the logs associated with projects." Quickly frustrated with all the manual entry, he taught himself Microsoft Excel and created standard forms that would populate based on formulas or a single entry. "This was my first step toward my current role. … Management recognized the need for technology and offered me the opportunity to pursue my passion."
Go-to websites: Outlet.dell.com and Monoprice.com, along with Google and Amazon.
Favorite gadget: His iPhone.
My job would be easier if … "there were more hours—but I'm not sure if it would actually get easier or if there would just be more time."•
Check out more CTO honorees..
Please enable JavaScript to view this content.