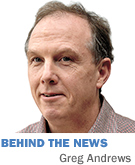 You don't have to go far on Indiana's highways and byways to find worn-down shopping centers that look much as they did in the 1980s. You can bet those centers aren't owned by Indianapolis-based Kite Realty Group Trust, which has built an admirable record of picking winning locations for its centers and keeping them vibrant with tens of millions of dollars in upgrades.

You can see the payoff across central Indiana, starting with the company's 1998 purchase of then-ailing Glendale Mall on Keystone Avenue, which it converted into the now-97-percent-leased Glendale Town Center.

In 2008, it bought the vacancy-plagued Rivers Edge shopping center on East 82nd Street and revitalized it with a star-studded lineup of retailers, including Nordstrom Rack and The Container Store, bringing occupancy to 100 percent. Three years ago, after buying out a partner, it transformed The Centre on the northwest corner of 116th Street and Rangeline Road into the Earth Fare grocery-anchored Rangeline Crossing, which is 95 percent leased.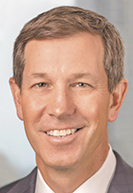 Kite
"We are very interested in making sure our shopping centers are as advanced as they possibly can be, so the retailer finds being in our centers very rewarding—which is why we reinvest," CEO John Kite said.

The company is on the cusp of further demonstrating that strategy in a big way. It plans to spend $15 million to $20 million to redevelop The Corner on the southwest corner of 116th and Rangeline into a 350,000-square-foot apartment-and-retail project.

It also has ambitious plans for Hamilton Crossing Centre, at U.S. 31 and 126th Street in Carmel—where it plans to add a Frank Theatres CineBowl & Grille featuring 16 lanes of bowling, a restaurant, movie theaters and video gaming—and at Fishers Station shopping center, at Allisonville Road and 116th Street—where it plans to demolish a former Marsh grocery as part a redevelopment that's expected to add a new grocery anchor.

The most audacious project would transform The Corner, a 43,000-square-foot strip center built in 1984 into a shopping center with eight times the square footage. Kite has intentionally been letting leases expire for several years to pave the way for the center's demolition.

"We made the decision that the real estate itself had moved beyond the physical product, and we wanted to bring it into a whole new realm," John Kite said.

The common thread for all those projects is awesome locations—which is a guiding principle for Kite's strategy overall.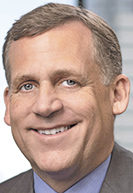 McGowan
It helps explain why John Kite, Kite Chief Operating Officer Tom McGowan and others made their bold bet a decade ago to build the $100 million Conrad Indianapolis on the northeast corner of Illinois and Washington streets downtown. The project—owned privately outside of Kite Realty—put the state's most upscale hotel on perhaps the best undeveloped site in Indiana.

The same mindset led Kite Realty in 2002 to buy the vacant office building at 30 S. Meridian St. that formerly housed the flagship L.S. Ayres department store. Today, the 111-year-old building is 97 percent leased, with a roster of clients that includes Kite, the Indiana Supreme Court, City Securities Corp. and the Lumina Foundation.

"You know what the two have in common—they're both outstanding real estate. The dirt in both cases is outstanding," John Kite said. "And that's the critical element when you are going to take these risks. That is the one thing you can't get wrong. You have to make good real estate decisions."

Kite expects to eventually enjoy a similar payoff from its bet on Pan Am Plaza, which the company scooped up in 2008, enticed by the undeveloped plaza's proximity to the Indiana Convention Center across Capitol Avenue.

Expect a mixed-use project on a grand scale, Kite officials say, likely with a hotel component.

"We have acquired the property with a long-term horizon, knowing that a project of this size and magnitude would take time," McGowan said. "We do believe the property ultimately will be developed, and we want to develop it in a way and in a density format that is monumental to downtown Indianapolis and generates the highest returns possible.

"It is not a piece of property we would do a minimalist type of development on. Its quality is too high."•