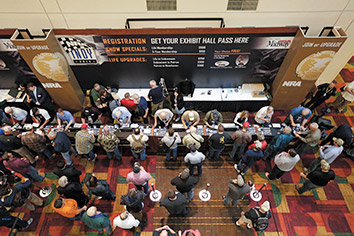 Visit Indy CEO Leonard Hoops said the Indiana Convention Center needs some short-term infrastructure improvement. But, he said, a major expansion likely won't be necessary in the next five years.
Visit Indy and the city's Capital Improvement Board, which owns the convention center, recently launched a tourism master plan to study and plan for things such as the need for convention center expansion and increasing hotel inventory. Findings of the study phase of the master plan aren't due until late this year. 
The tourism master plan is being designed to guide the CIB and Visit Indy through 2025.
Hoops isn't waiting for the study's completion to let some of his thoughts be known.
There's been a lot of recent debate about possibly expanding the convention center, with some saying it might need to grow by 2020.
"My gut feeling is the Indiana Convention Center doesn't need significant expansion," Hoops told the CIB during a meeting on Friday.
He said a small expansion in the next few years might be warranted, or there might be a need for a reconfiguration of the convention center to build a ballroom on the facility's south side. But, he said, a major project like the $275 million expansion completed in 2011 isn't needed.
The convention center has three ballrooms, with two on its northwest side and one on its northeast corner.
"The south end of the convention center can be difficult to sell separately," Hoops explained.
Hoops said standing pat is not an option, either.
"If we're exactly where we are today in 2021, we'll have less [convention and meeting] business than Louisville," he warned the CIB.
Not updating the city's hospitality infrastructure might not be the only thing needed to see continued improvement in the local industry, Hoops said.
Multiple people at a national meeting for associations and meeting planners earlier this month asked Hoops about the fallout from the Religious Freedom Restoration Act, he told CIB members.
"More than a year later, and people are still asking me about RFRA," Hoops said. "It still seems to be having some impact."
Critics decried the law as potentially discriminatory to individuals in the LBGT community. RFRA was quickly amended by Indiana Gov. Mike Pence and members of the General Assembly to limit the legal risk of discrimination. But some in the hospitality community said they need to remain proactive in protecting the reputation of an industry that—according to Visit Indy—has a $4.5 billion annual economic impact and creates 75,000 full-time jobs.
Visit Indy officials said they continue to educate people about the city's equal rights ordinance and its "Indy Welcomes All" marketing message.
Please enable JavaScript to view this content.