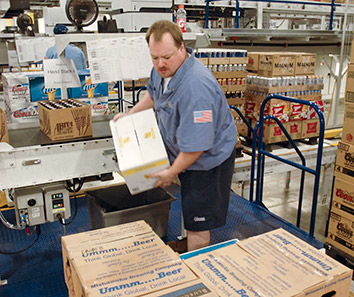 A Marion County Superior Court judge has ruled in favor of a Monarch Beverage Co. affiliate called Spirited Sales LLC in its quest to gain a permit to wholesale liquor, a win in Monarch's years-long effort to enter the spirits business.
Marion County Special Judge Heather Welch found the Indiana Alcohol and Tobacco Commission was "arbitrary and capricious" in its decision to deny the company's wholesale liquor permit application in 2014.
It is unclear whether the state plans to appeal the ruling or request a stay.
The 52-page decision, issued Wednesday, criticized a "disturbing and inappropriate" relationship between the ATC, the Indiana Governor's Office and Monarch's rivals in the liquor wholesaling industry, all of which appeared to lobby the commission behind the scenes for the denial of the permit and other requests from Monarch dating back to at least 2009.
The decision details situations in which staffers working for then-Gov. Mitch Daniels intervened or tried to intervene at the ATC in opposition to a proposal by a liquor wholesaler that had hoped to transfer its permit to Monarch's Pendleton Pike warehouse and use its transportation services. And the ruling discussed ex parte conversations—meaning talks that involved only one side of the argument with other side absent—that took place between the ATC, Gov. Mike Pence's administration and competitors regarding the Spirited Sales application.
Phil Terry, CEO of both Monarch Beverage and Spirited Sales, told IBJ that the companies are "pleased with the decision and think it's correct."
"We think this will allow Spirited Sales and Monarch to provide some local competition inside the liquor wholesale tier. It will increase competition and provide good value to retailers and ultimately consumers. This is a pro-business, pro-Indiana decision."
But Terry called the process Monarch and Spirited Sales went through to try to get approved by the ATC "long and frustrating." He also accused the Daniels administration and the agency of a lack of transparency and consistency.
The company applied to the ATC for the permit in September 2013. After six months without an investigation into the application, the ATC "expressed its intent" to deny Spirited's application.
At a hearing about the denial requested by Spirited Sales, none of the commission members who voted on the application attended. And groups that represent Monarch's competitors—Wine & Spirits Distributors of Indiana and Indiana Beverage Alliance—remonstrated against the application. They were allowed to act "as if they were parties to the proceeding," including being allowed to make objections during testimony, cross-examining witnesses and delivering closing arguments, the ruling said.
The hearing judge—ATC Executive Secretary David Rothenburg—recommended denial of the application in December 2014, five months after the hearing. The commission voted to deny the application in January 2015.
Monarch, Indiana's largest beer and wine distributor, has for years attempted to sell liquor in Indiana, but it has been shot down by the Legislature and in two previous lawsuits in which it tried to argue the state's regulatory rules were unconstitutional.
The state has a three-tier alcohol-regulatory system that requires manufacturers, wholesalers and retailers to be separate entities. Indiana is the only state in the country that restricts beer wholesalers from holding a liquor wholesale permit.
Monarch's competitors have argued that changing the system would unfairly give the firm a competitive edge in the market.
State law also prevents Indiana alcohol wholesalers "from directly or indirectly having an interest in both a beer wholesaler's permit and a liquor wholesaler's permit."
Monarch and Spirited Sales are separate companies with separate ownership structures. But they do have a lot in common.
Spirited is wholly owned by EF Transit Inc., which provides transportation services to Monarch and other companies. The same shareholders that own Monarch also own EFT.
EFT and Monarch also share the same CEO and board of directors, but their day-to-day operations are separate. They have distinct alcoholic beverage permits, maintain separate insurance, keep separate financial books, and have separate bank accounts, tax returns and payrolls.
The commission argued that giving Spirited a liquor license when its owner is a closely held organization owned by the shareholders of Monarch would violate state law and present a threat to Indiana's three-tier system.
But the court found that "Monarch shareholders' interests in the parent company do not create an indirect interest in the property of its subsidiary."
The judge also said she was not persuaded by the Indiana ATC's argument because it had a long history of granting permits to companies in similar situations. The court pointed out several examples.
For instance, while Spirited's application was pending with the ATC, the commission granted a three-way retailer permit to Repeal 1205, which is owned by William and Theresa Webster. William is also an owner of Fountain Square Brewery LLC, which has a retail permit, and Theresa is an owner of 15-05 Distillery LLC, which has a distiller permit.
""It is clear from prior decisions that the commission has … elected to find that corporate separateness is a suitable safe harbor from an owner violating the Prohibited Interest Provisions," the ruling stated. "To now argue otherwise seems disingenuous given the commission's previous rulings and statements."
Kara Brooks, a spokeswoman for Gov. Mike Pence, said the governor's office had no comment on the ruling.
Tina Noel, a spokeswoman for the Wine & Spirits Distributors of Indiana, said in a statement: "We believe this decision is legally incorrect and has the potential to do great harm. It ignores numerous prohibitions in the Indiana Alcoholic Beverage Code on monopolization of alcohol wholesaling, and is contrary to legal precedent throughout the country. This decision will result in Monarch having a unique advantage over every other alcohol wholesaler in the state of Indiana."
The Indiana Attorney General's Office, which is the state government agency lawyer, said that it "will review the court's ruling with our client ATC and will decide on next legal steps, if any, by the appropriate court deadlines."
Please enable JavaScript to view this content.