Downtown office towers and swanky office parks get big headlines when they trade hands for hundreds of millions of dollars.

But the market for another category of real estate, medical office buildings, is starting to sizzle too, as investors see them as stable sources of long-term lease revenue. They appear to be humble—usually no more than a few floors—but they're selling for rich prices.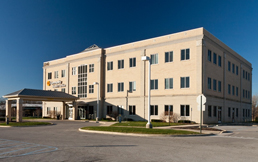 Community Health Pavilion sold last week for $12 million, or a jaw-dropping $286 per square foot. (Image via LoopNet)
The latest example is the three-story, 42,000-square-foot Community Health Pavilion at 2040 Shadeland Ave. on the east side, which sold last week for $12 million, Colliers International announced Tuesday. That works out to $286 a square foot—far more than the per-square-foot price in two high-profile office building transactions in the last week.

By comparison, the blockbuster sale announced Monday of four office towers in major Midwestern markets—including the 48-story Salesforce Tower in Indianapolis—rang up at $416.9 million for 3.1 million square feet. That works out to $134 per square foot.

Last week, the sale of Parkwood Crossing, a 1.2 million-square-foot office complex at Interstate 465 and North Meridian Street, sold for $162.9 million, or about $135 a square foot.

Community Health Pavilion, built in 2004, is fully occupied by medical offices. It is located about five minutes from Community East Hospital.

At its sales price, it's one of the most expensive transactions in months for a medical office building, as measured by price per square foot. Many other medical office buildings have sold from between $140 and $230 a square foot in that time.

The only one higher, according to a list provided by Colliers, was a medical office building at 9669 E. 146th St. in Noblesville, which sold in April for $38 million, or $298 a square foot.

Central Indiana has at least 265 medical office buildings, with a total of 9.5 million square feet of space, according to a recent report from Colliers.

What's new is that medical office buildings are starting to get snapped up by non-healthcare buyers, rather than by the medical real estate market. There were seven bidders on the property.

The buyer of the Community Health Pavilion is Inland Real Estate Acquisitions, a real estate investor and manager based in Oak Brook, Illinois, not a typical healthcare buyer. The seller was Norry Management of Rochester, New York.

Particularly attractive are medical office buildings that are master-leased to a major health system, which then subleases suites to tenants such as doctors and therapists.

"Typically, when we have a medical building, we take it to the medical market," said Tim Norton, executive vice president of Colliers International for health care services in Indianapolis, which marketed the property.

He added: "They have kind of predetermined rate, a sweet spot. But because the investment market got so hot, health care real estate became a very attractive item. … They realized there are very strong-credit tenants, taking a lease out for an entire building."

The Colliers International sales team representing the seller was led by Alex Cantu, senior vice president for capital markets.