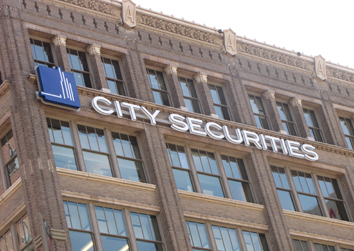 City Securities Corp., Indiana's oldest investment firm, has agreed to be acquired by St. Louis-based Stifel Financial Corp.
The sale ends a 92-year run of ownership by the Peterson family, which opened the business five years before the onset of the Great Depression and built a preeminent position in the municipal bond business that continues today. Over the last three decades, City has underwritten more than 60 percent of Indiana's municipal bonds.
Terms of the deal, which is expected to close in early 2017, were not disclosed.
Stifel, parent of the fast-growing regional brokerage Stifel Nicolaus & Co., plans to keep open City's headquarters office in the former L.S. Ayres department store building at 30 S. Meridian St. But officials aren't certain whether the company's 150-person workforce—which includes 40 wealth advisers in eight offices across Indiana—will increase or decrease.
Stifel CEO Ronald Kruszewski told IBJ that his firm has been interested in acquiring City for about 20 years.
"It's a great firm, and if they were ever going to decide to sell, I wanted to do it," Kruszewski said. "Business done well is a marathon, not a sprint."
City Securities CEO Mike Bosway, who has been with the firm for 30 years and became chief executive in 1999, said he and the majority of senior executives will stay after the acquisition.
Kruszewski told IBJ that Bosway would have a leading role in the company but declined to provide detail. He noted that of the 17 acquisitions the company has made since 2005, 16 former CEOs are still with Stifel.
Bosway said several factors sparked the decision to sell, one being the increasingly burdensome regulatory environment the government imposed through the Dodd-Frank Act following the 2007-2008 financial crisis.
"Post Dodd-Frank, one of the effects that it had on the entire industry was to lay a lot of additional regulatory costs on everybody—probably disproportionately on smaller firms," Bosway said. "So that was clearly a factor in considering this more so than we had in the past. The need for scale today, because of that, is greater than it ever had been."
City Securities has about $4 billion in assets under management. In contrast, Stifel has 7,500 employees, including approximately 2,200 wealth advisers, and $200 billion in assets under management.
Publicly traded Stifel has been on an acquisition spree since the financial crisis. It purchased New York-based investment bank KBW Inc. for $575 million in 2013, Alabama-based Sterne Agee for $150 million in early 2015, and the U.S. wealth-management arm of London-based Barclays PLC last December.
Stifel already has a major presence in Indianapolis, in part through the Knall Cohen Group at Parkwood Crossing on East 96th Street. Led by David Knall and Jeff Cohen, the group oversees some $7.5 billion in assets.
City Securities is one of three longtime subsidiaries of parent City Financial Corp. Another, City Real Estate Advisors, a syndicator of low-income-housing tax credits, was sold in June to Omni Holding Co. LLC. Terms were not disclosed, but one observer said it likely fetched more than $20 million.
The final company is City Securities Insurance LLC, an insurance brokerage founded in 1933. Bosway said the fate of that firm, which employs 20, is to be determined.
"We have reserved our options on the insurance brokerage until after decisions on the more complex business units—CREA and the investment bank," board member Mark Lubbers told IBJ in an email. "We could either spin off to shareholders prior to close on City Financial or place with an acquirer. We will be  analyzing best outcomes for our customers, employees and shareholders in the next few weeks."
City Securities was the largest revenue generator of the three in 2015, Bosway said, but he declined to provide figures. City Real Estate Advisors had revenue of $40 million in 2015, company officials told IBJ in June, and was projected to soon surpass City Securities.
IBJ reported in December that City Financial had hired the investment bank Piper Jaffray to assess strategy options—a step that often paves the way for company sales. The story noted that City was at a crossroads, in part because Chairman John Peterson, son of founder J. Dwight Peterson, is 83 and has no family members on a trajectory to succeed him.
Danny Danielson, Peterson's brother-in-law and another major shareholder in the company, died in May 2015 at 95.
Bosway downplayed the role of aging shareholders in the decision to sell. He said talks to sell City gained traction about a year ago, and City "started planning for ownership succession more than a decade ago."
"To say it wasn't a consideration is not true, but it was not a major factor at all," Bosway said.
City Securities is among a dwindling number of regional brokerages in the United States, partly because of rising technology costs and financial industry regulations.
In Indianapolis, one of City's chief rivals for years was locally based Raffensperger Hughes & Co., which was acquired by Cleveland-based National City Corp. in 1994. Another big player locally, Cleveland-based McDonald & Co., was acquired by Cleveland-based KeyCorp in 1999.
It's unclear if whether City will maintain its own brand, Bosway said, but he believes the Stifel acquisition bodes well for operations here.
"We've been a market leader in Indiana for decades, and we really believe that this partnership with Stifel just enhances our position in what we consider to be increasingly competitive markets," he said. "So we're really excited about the opportunities that Stifel presents to our clients, because Stifel is going to provide us with resources that elevate our wealth management and public finance platforms."
Please enable JavaScript to view this content.