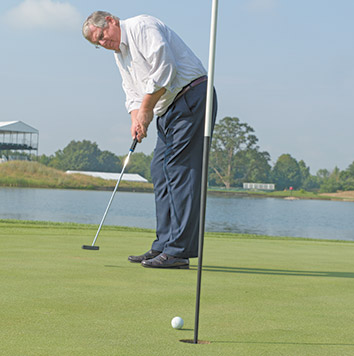 Few people would be as qualified as a Lebanon-based litigation attorney, who is also an Indiana Golf Hall of Fame member and Crooked Stick Golf Club member, to co-chair the 2016 BMW Championship at Crooked Stick Golf Club in Carmel Sept. 6-11.
 
Kent Frandsen is a partner of Parr Richey Obremskey Frandsen & Patterson LLP. The 1975 Indiana University Robert H. McKinney School of Law graduate has litigated almost 100 jury trials and currently represents Indiana rural electric cooperatives, school districts, a bank, and also has zoning and planning clients.
Outside of his legal practice, he has volunteered in some capacity in the 10 national championships Crooked Stick has hosted since he joined the private club in 1978. His experience includes the BMW Championship in 2012, during his term as president of the club from 2010 to 2013. He was also president of the club when the contract was signed for this year's tournament.
During the 2012 event, he was involved with hospitality. As co-chair for the 2016 tournament, he oversees the work of various all-volunteer committees that are mostly chaired or co-chaired by members of the club. In total, there are 2,500 volunteers helping to put on the event that is expected to draw 150,000 spectators to watch the world's top 70 golfers compete.
To get the event to Crooked Stick, there are a number of committees, he said, including "player hospitality, locker room security, tickets, parking, trash detail, scoring," and others. "The good news is I can oversee the committee structures but I don't need to pick up the trash. Unless someone doesn't show up."
Tony Pancake, Crooked Stick's director of golf and club operation, credits Frandsen for his dedication to the event and for promoting Crooked Stick.
"We've worked on some really important projects together," Pancake said. "He's always terrific to work with. He's so knowledgeable about golf, he's been a competitive player his whole life, and he's been to a lot of golf clubs around the world. Because of that, he has a unique perspective and really understands what the highest level of quality is. He also uses those relationships he's formed around golf around the country to provide ideas, better ways to do things. He's been a tremendous resource for the club."
One reason the club has hosted so many tournaments, said Pancake and Frandsen, can be credited to the course's designer, Pete Dye.
Frandsen said he was 18 years old when he first met Dye, and the two have even played golf together on courses Dye has designed.
"Crooked Stick was his first great golf course, and he has built 25 what I would call world-class golf courses that are famous and hold tournaments," Frandsen said. "He considers this one to be his baby because he was hired at a time to build this where he raised the money himself and convinced the locals to let him do this on this property that he acquired. At the time he built Crooked Stick, he had no track record, but he certainly knew how to do it and has been improving ever since."
Dye has designed or co-designed nearly 200 courses around the world, including close to 20 in Indiana.
Frandsen's lifelong love for golf started when he was a caddy for Ulen Country Club in Lebanon when he was 12. He started playing competitive golf when he was 13.
"It took me a while, but I got to be where I was pretty good," Frandsen said. "So I got to be a competitive golfer ever since. I'm 65, so I've been playing tournament golf for 52 years."
In that time, he has won the Indiana Amateur Championship three times: in 1974 when he was a law student; then again in 1979, and in 1984. In 1990, he was inducted into the Indiana Golf Hall of Fame.
He credited learning the sport at a young age to his successes on the green. "I have two partners who are great athletes" who played Big Ten basketball, he said. "They are much better athletes than I ever was, but they didn't play golf until they were older, so they struggle. Nothing to do with athleticism, just a skill you learn when you're young."
Those partners, Peter Obremskey and Tony Patterson, who will attend the tournament along with other members of the firm, agreed.
"Kent's golf game is another level than mine. He's very impressive to watch. He doesn't make mistakes, he's very deliberate … he knows where he's putting the ball. … I'm hitting the ball and hoping I hit the fairway, but he does it … knowing where the next shot will land," Patterson said.
He added that Frandsen is also "very gracious" and always encouraging the other players.
In addition to playing on weekends, Frandsen continues to play in about a half-dozen tournaments a year, including three or four in Indiana.
He has also been able to work out his schedule as a litigator around his golf schedule, whether that is for tournaments in which he is a participant, or volunteering with tournaments that Crooked Stick is hosting.
"There have been a few times where I've asked the court for a different date or a continuance," he said. "I think for this tournament I had something rescheduled because I'd be working [at Crooked Stick]. They were fine with it. Most lawyers understand as long as they have enough advance notice. They don't care what week we take the deposition, they just want to get it scheduled."
"He does whatever he needs to do to get both jobs done," Obremskey added. "During summer and fall he enjoys playing golf but he keeps up with his work. During winter he has more time to practice law, but he's always been a dedicated lawyer and golfer. For instance, even if he has a tee time at 8 a.m., he'll still be back in the office by 3 p.m."
Frandsen also doesn't consider golf to be an excuse not to work.
"I think about work all the time," he said. "I have my cell phone with me and cannot get my mind off of work. One of the problems with being a good golfer is it's very difficult to be a good golfer competitively if you're constantly worried about deadlines and cases and depositions or other things that are going on. It just becomes part of the deal; you just get used to it."
He added that technology has helped him because he can work remotely if he does travel to play, and he also credits his law partners for working with him and being understanding.
"To be chairman of this tournament, for example, or play golf competitively, it does take time, but everyone has a hobby. Some guys like to go to Cubs games, other guys go on vacations, and my only real hobby is to play golf," he said.
Patterson agreed.
"As far as the balance, I think it's healthy for him both physically and psychologically to have golf as an outlet," said Patterson, adding that applies to all attorneys who have hobbies outside of their legal practices. "He's probably a better lawyer for it. It's just part of the makeup of who he is, and he enjoys it."
Please enable JavaScript to view this content.