The race is on in the northern suburbs to be known as bike-friendly—a strategy government leaders believe will help attract businesses and residents.

For years, the cities and towns in Boone and Hamilton counties have invested in trail systems; now they are adding other bike-friendly elements, like dedicated bike lanes, bike routes and loops, and bike-share programs.

More than 75 percent of respondents to a survey Zionsville conducted said improvements to bike and pedestrian infrastructure are important. Nationally, more than 50 percent of residents say walkability is a top priority when considering where to live, according to the Urban Land Institute.

Even suburban residents still want urban amenities, like trails, paths and bike lanes on roadways, said Brett Schwartz, program manager with the National Association of Development Organizations.

"I think at the end of the day, this is all about creating options," Schwartz said.

Tim Monger, CEO and president of Hamilton County Economic Development Corp., said bike-friendliness is now included in the quality-of-life amenities companies seek when determining where to locate.
"Being able to provide a variety of alternative transportation options to their employees is certainly important," Monger said. "Especially with some of the tech companies—they're interested in however their employees want to get to work and being able to support that."

So far, the northern suburbs have mostly invested in trails and multi-use paths separated from streets. It's a common strategy, said Ken McLeod, state and local policy manager for the League of American Bicyclists, a Washington, D.C.-based organization that encourages businesses, communities and universities to be bike-friendly.

"It seems like a Midwestern trend," McLeod said.

David Littlejohn, alternative transportation coordinator for Carmel, said the city opted for multi-use paths because they provide an option for bikers of all experience levels. Carmel also has established bike routes and is considering adding more bike lanes.

"We're trying to look into ways that we can implement low-stress bike infrastructure to help promote biking to people who might not feel comfortable biking in the streets," Littlejohn said. "Our typical standard is the multi-use path. … We really think it helps promote a bike culture."

Carmel's long-term-planning document shows bike lanes as possibilities on nearly all major thoroughfares.

Fishers has a few miles of bike lanes on streets today, but that's just the start. Its Fishers 2040 plan identifies 23 miles of new bike lanes.

Noblesville hasn't invested in bike lanes yet, but annually budgets $250,000 to $2.5 million to connect gaps between existing paths and trails. The city also has more than 40 miles of designated bike routes and is constructing the first portion of the Midland Trace Trail, which will eventually connect to Westfield's leg of the trail.

Zionsville hasn't jumped into bike lanes yet, but it's on the horizon, said Lance Lantz, the town's street and stormwater supervisor. The town's Strategic Trails Implementation Plan identifies 10.5 miles of roadway for future bike lanes.

The town already has nearly 60 miles of bike routes and 18 miles of trails.

Making the investment

The cost of constructing a multi-use path, creating a bike loop, or painting a bike lane on the roadway varies depending on whether it's a separate project; whether a private developer is involved; and the length of the path, route or lane.

A path less than one mile long that Zionsville constructed in 2012, for example, cost $1.3 million, but other projects haven't hit six figures.

Other bike infrastructure improvements cost little.

The Carmel Access Bikeway that opened in September 2009 and outlines five bike loops totaling more than 50 miles through the city cost about $60,000 for signage and road markings, Littlejohn said.

"It was a good way to promote riding on certain streets for a low cost," he said.

Most of the communities also have established standards that require road projects, new subdivisions or commercial developments to include multi-use paths, sidewalks or other bike or pedestrian infrastructure.

Carmel officials recently considered requiring permanent bike parking with new commercial buildings, but after several meetings the language applying to long-term bike parking was removed.

Instead, the Carmel City Council approved an incentive for developers: If long-term bike parking is included in a project, the developer is allowed to reduce the number of vehicle parking spots 5 percent.

"Long term, this might be something, but right now, if a company comes and they're looking to attract that type of employee, they're going to do that on their own, whether we require them to do so or not," council member Kevin Rider said at the council's Aug. 15 meeting. "I'm just not big on government telling businesses what to do with their money if we don't have to."

Other council members described the incentive as a "good compromise" that still encourages bike infrastructure without creating a burden.

OneZone, the combined chamber of commerce for Fishers and Carmel, opposed the requirement but supported the incentive option.

"I'm not really too upset about how it turned out," Carmel City Council member and bicyclist advocate Bruce Kimball said. "You probably want to have your own bike parking to be competitive long term."

Sharing bicycles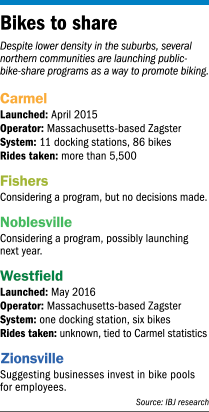 The communities also have been encouraging biking by investing in bike-share programs.

Carmel officials say their program with Cambridge, Massachusetts-based Zagster has been a success. Since opening with two docking stations and 16 bicycles in April 2015, the program has expanded to 11 locations and 86 bikes. More than 5,500 rides have been taken.

The city has spent more than $100,000 to offer the bikes to the public, according to invoices from Zagster.

Westfield this spring also jumped into bike sharing, launching a program with the same company, which makes it easier for residents to travel between the cities. Westfield's two-year contract with Zagster is expected to cost $9,360.

"They're popping up. It's amazing," Schwartz, with the National Association of Development Organizations, said of bike-share programs. "It's really gone very quickly."

According to the Urban Land Institute, there were just 13 bike-share systems worldwide in 2004. That increased to more than 800 by 2015. More than 50 launched in North America from 2010 to 2015.

Fishers has considered a bike-share program for more than a year, but hasn't made a decision. Noblesville might implement a program as early as next year.

Zionsville likely will not launch a publicly supported program, but instead is recommending businesses offer bikes to employees.

Curt Whitesell, real estate agent and director of Westfield's co-working space known as The Union, purchased three bikes for co-working members in May.

"I think it creates a really cool community culture," Whitesell said. "It's kind of been a way to show people our downtown."

Two communities—Carmel and Zionsville—already are recognized by the League of American Bicyclists for their bike-friendliness.

The league's program allows communities, universities and businesses to apply for a bike-friendly rating that ranges from bronze to platinum. Applications from suburban cities regularly account for a third to half of all applications, said McLeod, the organization's policy manager.

"I think suburbs are interested in providing a high quality of life, and providing places to bike is a big part of that," he said.

The organization doesn't make it easy for cities and towns to improve from bronze to silver, gold or platinum. Most communities start at the honorable-mention level and slowly improve their ranking. Carmel and Zionsville received bronze ratings.

"The goal is for people to be able to bike around the community and feel safe while they're doing it," McLeod said.

Eight other Indiana cities have been awarded bike-friendly status from the league, with all but one earning the bronze level. Bloomington is ranked as gold.

"I think that designation is worthwhile to the town," Lantz said of Zionsville's bronze rating. "Even if people don't know what that means … it tells me in a general sense that this community thinks [biking] is important."•