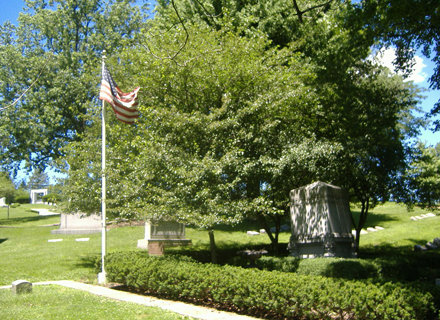 A local group is mounting a campaign to stop the U.S. Department of Veteran Affairs from building a columbarium in a wooded area of Crown Hill Cemetery.
The VA announced last September that it paid $810,000 to buy 14.75 acres from the not-for-profit Crown Hill Cemetery Inc. to construct the above-ground vault to hold urns of cremated remains.
The columbarium is set to be built on the northern border of the 555-acre cemetery. That section runs along 42nd Street between Clarendon Road and Michigan Road.
But the group, backed by the Indiana Forest Alliance, hopes to stop the development and is asking Indiana's U.S. senators and representatives to intercede.
"What would stop this project is enough political pressure for them to reconsider it," Alliance spokeswoman Anne Laker said.
The site is home to dozens of 300-year-old trees, Laker said, including a potentially 500-year-old bur oak, which would be replaced with 2-inch caliper trees.
The VA was set to begin accepting bids on the project by the end of the year, but a timeline for construction now is unclear.
A spokesman for the VA's National Cemetery Administration said "everything is on hold" until the VA addresses the concerns.
The Butler Tarkington Neighborhood Association is hosting a meeting at 6:30 p.m. Monday at the Martin Luther King Community Center at 40 W. 40th St. A VA official from Washington, D.C., is expected to attend, the spokesman said.
Also, the Indiana Forest Alliance will host its own meeting at 6 p.m. Wednesday at the same location.
"Everyone supports veterans having ways to be remembered, but, to us, this is kind of a failure of imagination," Laker said. "Isn't there another way to honor veterans rather than cutting down trees?"
This isn't the first time the Crown Hill not-for-profit has attempted to sell the land for development. In 2007, local developer Mann Properties had proposed building homes and a retail center on 71 mostly wooded acres but was rejected by the city's Metropolitan Development Commission.
Upon its announcement last September, the VA said it would construct a main entrance wall and gate on 42nd Street that would lead to the columbarium. It would feature natural and ornamental plantings, flagpoles, a funeral-procession parking area, a shelter building, a plaza for memorial monument donations, a memorial wall and an electronic gravesite locator.
The Crown Hill columbarium would become the third open VA national cemetery in Indiana; the others are in Marion and New Albany.
 
Please enable JavaScript to view this content.