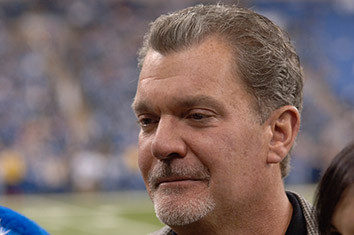 The YMCA at Cityway will be renamed the Irsay Family YMCA at CityWay after Indianapolis Colts owner Jim Irsay and his family made a multimillion-dollar donation to the organization.
Irsay and Colts quarterback Andrew Luck attended a press conference Tuesday afternoon at the facility at 430 S. Alabama St., to make the announcement.
YMCA officials did not disclose the actual amount of the gift, but called it "generous."
The YMCA at Cityway opened in December 2015 after a $24 million construction project. The three-story, 87,000-square-foot facility is just blocks away from Lucas Oil Stadium. It has two indoor pools, three gyms and an elevated running track.
Eric Ellsworth, CEO of the YMCA of Greater Indianapolis, called the donation "transformational."
He said the Irsay gift goes toward the $21 million fundraising goal for the YMCA at CityWay—of which $17 million had already had been raised—as well as provide funding for the yet-unbuilt OrthoIndy Foundation YMCA in Pike Township, which hasn't reached its fundraising goal yet.
Irsay has a fortune worth about $2.3 billion, according to Forbes magazine, making him the fourth-richest man in Indiana. In June, Irsay paid $137,500 to buy the Yellow Cloud electric guitar that late musician Prince used in numerous concerts. In December, he paid $1.75 million for Ringo Starr's drum set.
Please enable JavaScript to view this content.