The nearly 120-year-old downtown building that houses the Marion County Coroner's Office no longer is large enough for officials to adequately conduct autopsies on the growing number of bodies arriving there.

An inefficient air system, structural problems and frequent water leaks are among the obstacles that make operating in the antiquated facility even more difficult, Chief Deputy Coroner Alfie Ballew argues.

Yet the coroner likely will remain in the 25,000-square-foot, privately owned building at 521 W. McCarty St. the next two years while the city explores whether to move the office or have a building constructed.
Officials at the Coroner's Office, however, want to leave when the current lease expires in January.

"We need to look at vacating the building," Ballew told the City-County Council's Public Safety and Criminal Justice Committee this month. "It's time for us to go to a building that's useful for our needs."


Concerns about working conditions came to a contentious head at the Sept. 7 meeting, where Ballew aired her grievances. She took the lead because term limits prevent Dr. Frank Lloyd, who was elected coroner in 2008 and 2012, from running again in November.

The coroner has occupied the three-story building south of Lucas Oil Stadium since 2002 and before that was in the Marion County Jail. But the agency is quickly outgrowing the space mostly due to the rising number of deaths from homicides and drug overdoses the office handles.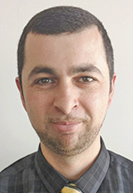 Qaddoura
It expects this year to conduct autopsies on 259 victims of overdoses, up from 192 in 2012, as a result of increasing usage of heroin and other lethal drugs. The number of autopsies performed on murder victims has jumped from 127 last year to an expected 174 in 2016, statistics from the Coroner's Office show.
The incidents might not all occur in Marion County but the deaths do, usually following emergency room visits to a local hospital, resulting in a call to the coroner. Overall, 3,000 deaths a year are reported to the coroner. In more than 1,000 of those cases, the bodies are transported to the facility for forensic examination.

"I've never seen the number of deaths to this extent," Ballew said. "It's alarming."

Another shortcoming of the building, she said, is its lack of a backup air conditioning system. She said failure of the A/C would create a very challenging work environment.

Ballew didn't return phone calls from IBJ seeking follow-up comments from the meeting.

The coroner this year operated on a nearly $2.9 million budget, which would increase to $3 million under the proposed 2017 city budget. It pays $450,000 in annual rent, including utilities and janitorial services, or $37,500 per month.

One of Ballew's chief complaints is that, under the current lease, repairs are the responsibility of the Coroner's Office. When repair costs exceed what is allocated, the coroner is stuck with finding the additional funds.

But the City Controller's Office counters it has fixed that problem by negotiating a new lease that shifts those costs to building owner John Bales and reduces overall lease costs by $100,000 annually.

"Where we are today, it's a guaranteed solution," Controller Fady Qaddoura told the committee. "There are no other plans. The reason we were able to do this is because it makes sense to the owner. Otherwise, the building would be vacant."

He added: "In every way you look at the contract, it's better than what we had. I think we are in a good place."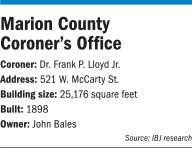 Bales, then a principal of Venture Real Estate Services, was acquitted by a federal jury in February 2013 on 13 felony counts, including wire, mail and bank fraud. Prosecutors said he and two other men had defrauded the state and a bank over their purchase of a building in Elkhart and a subsequent lease deal with the state's Department of Child Services.

A new lease for the Coroner's Office would need the blessing of the City-County Council and gives the controller a few years to explore other opportunities.

The Coroner's Office, meanwhile, has long been anticipating an exit from the building. It began searching for a new location in 2012 and recently began lease negotiations for a building Ballew didn't identify to committee members. The discussions came to a halt after the city's Office of Financial Management got involved and wanted to survey the space needs of other city agencies, Ballew said.

The Mayor's Office is not taking sides on the issue. City spokeswoman Taylor Schaffer said Mayor Joe Hogsett doesn't get involved in the operations of individual entities.

Construction of a criminal justice center, once on the table, likely would have solved the coroner's problems. Plans for a massive complex to be built on part of the site of the former General Motors stamping plant were abandoned after the City-County Council in June 2015 rejected a scaled-down version of the center.

The original proposal included room for coroner's offices along with crime labs. The coroner shares its current space with the county's forensic services agency.•