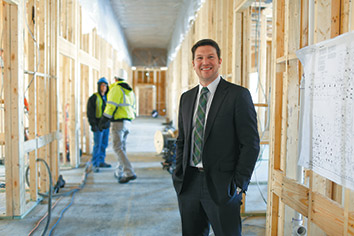 A publicly traded senior care company affiliated with the Carmel-based real estate developer Mainstreet Property Group has announced $152 million in acquisitions that will swell its roster of properties from 24 to 31.
In one of the transactions, Carmel-based Mainstreet Health Investments, which trades on the Toronto Stock Exchange, is buying four senior care facilities from Mainstreet Property Group for $92.8 million.
The two firms are separate but have a highly synergistic relationship. Selling new developments to the public company gives Mainstreet Property Group access to capital to fund additional projects. And Mainstreet Health Investments also stands to benefit, since the projects Mainstreet Property Group builds serve as a "pipeline for the public company to continue to grow," said Scott White, the newly appointed president of the public company.
Mainstreet Property Group CEO Zeke Turner late last year created the public company by taking over Kingsway Arms Retirement Residences Inc., which already was listed on the Toronto Stock Exchange. After the company was rechristened Mainstreet Health Investments, it raised $95 million in a
public offering
.
Mainstreet Property Group owns more than 5 percent of Mainstreet Health Investments, and Turner serves as the public company's chairman.
 
To help fund its latest acquisitions, Mainstreet Health Investments said it plans to raise $65 million in a subscription offering.
 
In addition to buying Mainstreet Property Group facilities, the public company plans to spend $42.7 million to acquire 50 percent stakes in two senior care facilities and outright ownership of another facility from third parties. It also plans to spend $16.6 million to buy five loans that include options to buy senior care projects.
 
After Mainstreet Health Investments launched, it hired Mainstreet Property Group to provide management services. But the company now says it has reached a scale that it needs its own management team. As a result, eight Mainstreet Property Group employees have jumped to the public company, including White, bringing the company's employment to 14.
 
This isn't the first time Turner has created a Toronto-listed public company to help fund his voracious appetite for development. In 2014, he sold the first, HealthLease Properties, to Ohio-based Welltower Inc. as part of a $2.3 billion deal under which Welltower agreed to provide hundreds of millions of dollars in financing for new projects.
 
Turner argues that there is a
massive opportunity
to build what he calls post-acute-facilities that focus on short stays by patients before they go home. He told IBJ in 2014, he aspired to build $1 billion in new facilities a year.
Please enable JavaScript to view this content.