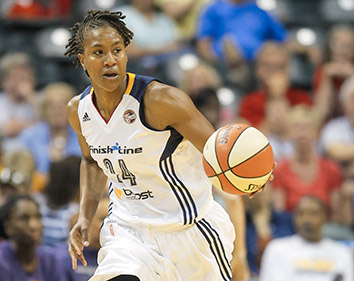 Tamika Catchings cherished every precious moment Sunday—from hearing her favorite National Anthem singer right through her farewell speech.
In between, fans, teammates and former players serenaded her with the same chorus: Thanks for the memories.
Yes, on a day the Indiana Fever blew past beat Dallas 83-60 for the team's most lopsided win of the season, the score didn't really matter. One of the best and most beloved stars in WNBA history was about to say goodbye to her adopted hometown.
"I remember thinking after getting hurt my senior year at Tennessee, thinking nobody is going to want me. I've got a broken wheel, and who goes to the store to buy something that's broken?" Catchings told the fans after the game. "But thank you, thank you."
Yes, she started preparing for this moment in February 2015 after signing her final contract.
But the rousing send-off still teetered between heart-felt thoughts, trips down memory lane, job proposals and even a comedy routine.
Throughout the more than one-hour ceremony, Catchings, who declined gifts during her farewell tour, collected a few Sunday: A new Lexus, a framed USA Basketball jersey surrounded by team photos she competed on, two chairs and a specially designed Hoodie from Nike, a painting of her in a shooting stance and a custom-made poster with the word "relentless" above her photo.
The one she appreciated most might have been the $100,000 check from Pacers Sports & Entertainment to her Catch The Stars Foundation.
Fans had plenty of chances to cheer Sunday.
But when she departed for the final time, with 1:33 left to play, the fans gave Catchings a prolonged ovation as she walked toward the bench, hugged her replacement and everyone on the bench. Former coach Lin Dunn was caught wiping away tears.
"Back in 2001, what we didn't know then but what we do know now is that we got the crown jewel of the WNBA," Fever chief operating officer Kelly Krauskopf said.
It was a special day for everyone.
Fever players wore new white shooting T-shirts to honor Catchings. Fans wore different white T-shirts, with the hashtag 24Forever emblazoned across the chest. Coach Stephanie White, who is bound for Vanderbilt after this season, even participated by wearing a nifty all-white outfit and the shooting shirt underneath her jacket.
And the crowd was full of familiar faces.
Friends and family came in from out of town. Former teammates such as Tully Bevilaqua and Katie Douglass came back, too. Pacers president of basketball operations Larry Bird and Olympic gold medalist Paul George sat together, and Reggie Miller returned to the venue where his own farewell ceremony took place during the spring of 2005.
Like Miller's farewell that day, anything Catchings did on the court—make a basket, draw a foul, grab a rebound—drew a loud cheers.
During timeouts, a kaleidoscope of memorable moments played on the video board. So the four-time Olympic gold medalist, who carved out her own niche in Indiana's long, illustrious basketball history, couldn't disappoint the fans.
She didn't. Catchings scored eight points in the first quarter, finished with 16 and added seven more rebounds to the WNBA's career record. Not bad for a 37-year-old star.
When the postgame ceremony began, the emotions really flowed.
"She is unwavering in her passion, her love, her beliefs," longtime teammate Briann January said. "This is the same woman who cracks herself up with corny jokes and Shirley Temples. People like you don't come along often Catch. I love you to death and everything you've done for me. Twenty-four forever."
White shared similar sentiments as she fought back tears.
"Tamika, I was lucky to be your teammat4e, I'm honored to be your friend," White said, pausing. "I am so proud, so proud of who you are and we thank you for gracing us with your presence every day and making us better people."
The 10-time All-Star and five-time WNBA defensive player of the year finishes her career with 457 games played, second on the career scoring list (7,382) and as the career leader in free throws made (2,004), steals (1,074) and rebounds (3,316).
Catchings will play at least one more home game—Wednesday night against Phoenix—but that didn't take away from all that she was being honored for Sunday.
"I think of all the tears I've shed after losses, I think of all the tears I've shed after wins, I think of all the tears that I've shed during the hard work and when you give that much, my tears have already been shed," she said. "I've lived here longer than I have literally anywhere my whole entire life, so this is home, and I'm so thankful that this journey ends here today on this court."
Please enable JavaScript to view this content.