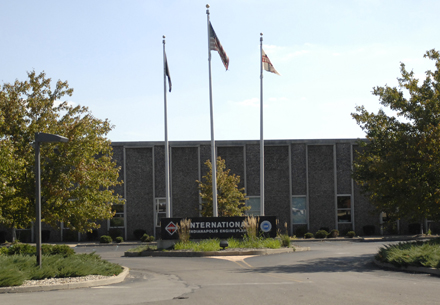 The former Navistar plant on Indianapolis' east side has been sold, but the new owner says he's not certain yet what his company will do with the property.
The Brookville Road site, which includes about 1.6 million square feet on about 90 acres, formerly housed a Navistar International Corp. engine plant and foundry. The engine plant ceased operations in 2009 after about seven decades of production at the site, and the foundry shut down in June 2015.
Cleveland-based Park Corp. purchased the site from Navistar last month. Terms of the deal were not disclosed, though in a recent filing with the U.S. Securities and Exchange Commission Navistar described the sales price as "an immaterial amount" to the company.
The property's value was assessed at at about $8.5 million in 2015, but that was lowered to about $3.8 million this year.
The huge east-side facility employed as many as 1,650 workers in 2005, but began mass layoffs amid the recession as the auto market tanked. The engine-plant closure cost about 700 employees their jobs. About 180 workers lost their jobs when the foundry shut down.
Navistar is still doing some wind-down activities at the plant but that work should be finished by the end of this month, said Raymond Park, founder and chairman of Park Corp.
Park, 90, founded his company in 1946. It specializes in purchasing assets—particularly industrial sites—to refurbish and lease. Park said his family-owned company has about 30 million to 40 million in real estate holdings in several states, including Ohio, Pennsylvania, West Virginia, Minnesota, Texas, California and Oregon.
Park said his typically purchases properties before it decides exactly how to repurpose them—and this is also the case with the Navistar site.
"Very seldom do we buy a plant and know exactly what we're going to do with it," Park said. "We go down the best road possible."
Park said his company's initial strategy for the Navistar site will be to try and find a new tenant or tenants for the foundry.
"We may be unsuccessful in doing that. It may be successful," Park said.
A single tenant might want to occupy the entire property, or it might end up being split among multiple tenants.
Whoever ends up at the site, Park said his company intends to hold the property for the long term.
"We're not in the business of buying and selling. We're in the business of buying and fixing up and leasing," Park said.
It's a strategy Park has used with success in other locations.
In 1977, Park Corp. purchased a former military bomber and tank plant in Cleveland and redeveloped it into the International Exposition Center, or I-X Center. The facility occupies 2.2 million square feet and is located next to Cleveland Hopkins International Airport.
Park Corp. sold the I-X Center to the city of Cleveland and now leases the space back from the city. Park Corp.'s offices are also housed in this facility.
Another long-term Park Corp. holding is an auto stamping plant in South Charleston, West Virginia. When a former tenant ceased operations at the site in 2006, Park Corp. invested millions of dollars in the property and equipment with the goal of finding a new tenant to restart the site. Park landed Spanish company Gestamp Automocion, and stamping operations resumed at the site in 2012.
The first order of business for the old Navistar site will be cleanup.
Workers have already started cleaning the foundry area. By the end of the year, Park plans to have an auction to get rid of excess machinery and equipment.
"Six months from now, we'll know a lot more than we do now," Park said.
It's also premature to know if the project will receive any economic incentives.
Todd Cook, senior project director for Indianapolis Economic Development at the Indy Chamber, said local incentive offers could come after Park Corp. secures a tenant for the site. The level of incentives would depend on how many employees end up working at the facility.
"We'll work with them as appropriate," Cook said.
For most of its 70-year-plus history, the local Navistar plant operated under the name International Harvester and built a range of products, from farm implements to refrigerators. In its later years, it made only diesel engines—a booming business before the Great Recession set in.
In 2005, the engine plant had 1,100 union employees working two shifts, rolling out 280,000 engines annually. The foundry employed another 550 workers. That year, Navistar invested more than $300 million to upgrade the facility to meet new federal Environmental Protection Agency diesel guidelines. Its main customer was Ford Motor Co., which bought the engines for its F-series pickup trucks.
Please enable JavaScript to view this content.