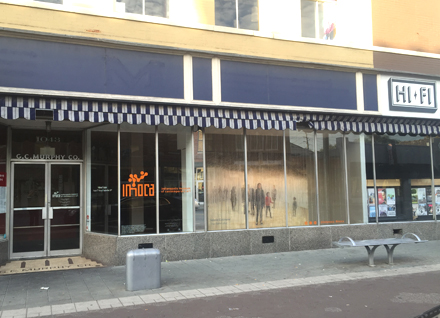 The Indianapolis Museum of Contemporary Art plans to move out of its home base in Fountain Square by the end of the year, its executive director, Paula Katz, announced Thursday night.
But the 15-year-old museum has not yet made a relocation decision. "Plans are still evolving for the museum's next steps," Katz said in an email to IBJ.
Since 2009, IMOCA has been a tenant in the historic Murphy Arts Center, where it operates a 2,000-square-foot gallery.
The museum is leaving to make room for the expansion of its Murphy Arts Center neighbor, bar and music venue Hi-Fi, as well as a reconfiguring of other areas of the bustling venue.
About $150,000 in renovations will begin on the Murphy building in mid-November with Hi-Fi shutting down though December in anticipation of an early January reopening. The changes will almost double the 1,000-square-foot, 195-capacity performance area at Hi-Fi to about 2,000 square feet.
In addition, the changes will allow Hi-Fi and Murphy restaurants Pure Eatery and Red Lion Grog House to each have their own restrooms rather than the current arrangement in which customers use shared facilities.  
A new space for the 15-year-old museum has yet to be secured, although Murphy Building co-owner Larry Jones has proposed relocating IMOCA to his Circle City Industrial Complex property on Brookside Avenue, which now houses artist studios and small businesses.
Jones and Murphy co-owner Craig Von Deylen are financial supporters of the museum.
"That's not out of the realm of possibility," Katz told IBJ about the CCIC proposal. "We are exploring all options at this point. We're trying to make a careful decision before moving forward."
The gallery in the Murphy Arts Center closes on Nov. 19. An exhibition, "Unloaded," which begins there Oct. 7, may be moved in part to a concurrent exhibition at the 3,000-square-foot IMOCA gallery space the museum opened in 2014 in the Alexander Hotel at CityWay.
"Although the exact iteration of IMOCA is yet to be determined, it will continue to offer engaging and thought-provoking exhibitions and programs in the Alexander-CityWay gallery and through its partnerships on the near-east side," Katz said.
The museum is one of several arts-related tenants in the Fountain Square building, including numerous galleries and Heartland Film, parent organization to the Heartland Film Festival.
"We definitely want to stay near downtown," said Pamela Perry, secretary of the IMOCA Executive Board. "And we want to be in a neighborhood poised for great change."
Katz added that IMOCA's temporary homelessness could actually make way for expansion "whether that means bigger and more prominent international and national artists or expanding our programming. I've always wanted to do more with families and children. These are things we are considering—a space that will help us do better and possibly bigger."
For 2017, two exhibits are already scheduled for IMOCA's Alexander location.
"Next year feels great," said Katz. "We know our expenses are covered and we'll have this year of exploration."
Albeit exploration without a home base. "We don't normally work out of the gallery anyway," Katz added. "Look for us in coffee shops or in our pajamas."
Please enable JavaScript to view this content.