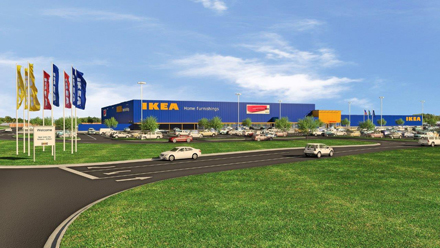 Swedish retail giant Ikea has hired a slew of contractors to build its Fishers store and is on schedule for a fall 2017 opening, it announced Wednesday.
Ikea said it will break ground next month on the 289,000-square-foot store and 1,000-space parkling lot on a 35-acre parcel along the east side of Interstate 69, just south of the East 116th Street exit.
Ikea has chosen the Indianapolis office of Chicago-based Pepper Construction Group to serve as construction manager of Fishers site. Pepper has handled construction on several Ikea stores, including one being built now in Columbus, Ohio.
Other firms involved in the development are real estate brokerage CBRE for site-selection support; Faegre Baker Daniels for local land-use counsel; Kimley-Horn for civil engineering; KJWW Engineering Consultants for structural engineering; ACIES Engineering for mechanical, electrical and plumbing design; Earth Source for environmental services; and GreenbergFarrow as project architect.
"With contractors onboard, plans can proceed toward opening the future Ikea Fishers," said Ikea U.S. President Lars Petersson in a written statement. "This store will provide a more convenient Ikea shopping experience for current and potential customers throughout Indiana, complementing our growing Midwestern U.S. presence."
Ikea said the Fishers store will feature nearly 10,000 exclusive items, 50 room-settings, three model home interiors, a supervised children's play area, and a 325-seat restaurant.
More than 500 workers will be used during the construction phase. The store will have about 250 employees once it opens.
Ikea said it is evaluating "potential on-site power generation" at the site. The retailer uses solar panels more than 90 percent of its 40-plus U.S. stores.
Please enable JavaScript to view this content.