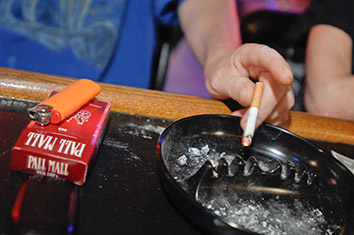 A coalition of health and business groups is gearing up to ask the Indiana General Assembly to raise taxes on packs of cigarettes by at least $1.50 each, raise the legal age of smoking from 18 to 21, and repeal the smoker's bill of rights.
They say the moves will help cut down on a smoking epidemic that costs Indiana nearly $7 billion a year in health care and lost productivity, and claims the lives of more than 11,000 Hoosiers a year.
"The healthiness of our state just keeps getting worse and worse," said Bryan Mills, president and CEO of Community Health Network, during an interview after participating in a panel discussion Thursday at IBJ's Health Care & Benefits Power Breakfast.
The push is coming from the Indiana Hospital Association, the Indiana Chamber of Commerce, the Indiana State Medical Association, the Indiana University School of Public Health and other groups. They point out that Indiana ranks 41st among states for overall health, and 44th for smoking, according to United Health Foundation's annual rankings.
Declining public health is driving up health costs in Indiana and nationally, said Mills, who is chair of the Indiana Hospital Association. The nation's health care tab this year is expected to surpass $10,000 per person for the first time, the government said in June.
Twenty-three percent of Indiana adults smoke, higher than the U.S. median of 18 percent, according to a study released earlier this month by the locally based Richard M. Fairbanks Foundation, which awards grants in the areas of health and education.
The push to raise the cigarette tax comes just months after the Indiana General Assembly flirted with the idea of raising taxes on cigarettes and gasoline to fund road repairs. The plan was seen primarily as a way to raise millions of dollars for roads, but in the end, the state decided to tap budget reserves to fund $800 million worth of road repairs.
Mills said the coalition, known as the Alliance for a Healthier Indiana, wants the proceeds from higher taxes to go to smoking cessation programs, not road repairs. Six out of 10 smokers try to quit the habit every year. "They need help," he said.
Indiana currently charges a tax of 99.5 cents on a pack of cigarettes, ranking the state 34th nationally and below the tax charged by most nearby states. The average state tax is $1.59 a pack, which is in addition to a federal tax of $1.01 a pack.
The group also wants to raise the legal age for smoking from 18 to 21, as a growing number of cities and states have done, including New York City, Kansas City, Hawaii and California.
Some other panelists at the IBJ Power Breakfast pointed out the huge cost society now pays for the relatively low price of a pack of cigarettes. Dr. Jerome Adams, Indiana state health commissioner, said when smoking-related costs are factored in, a pack of cigarettes actually costs $16. "You're paying for that," whether you smoke or not, he said.
The group also wants to repeal the smoker's bill of rights, approved in the early 1990s, which prohibits employers from requiring prospective employees to stop smoking as a condition of employment. Indiana is one of 29 states with smoker protection laws.
Please enable JavaScript to view this content.