The Phoenix Theatre has raised $5.1 million toward the $8.5 million it needs to fund construction of a new theater building at the northwest corner of Illinois and Walnut streets in downtown Indianapolis, Phoenix officials announced Wednesday.
Officials said they are launching a capital campaign to raise the other 40 percent of the funds. They also unveiled designs for the project by Indianapolis-based Ratio Architects.
Designs call for the 20,000-square-foot building to include:
— a 150-seat proscenium theater;
— a configurable black-box theater with seating for up to 90;
— dedicated classrooms and a rehearsal studio;
— a "state-of-the-art" scene shop and costume shop;
— a grand lobby that will open directly onto the Glick Peace Trail, which is a key stretch of the Indianapolis Cultural Trail;
— a special-events lounge and gallery space;
— a prep kitchen for catered events and event rentals.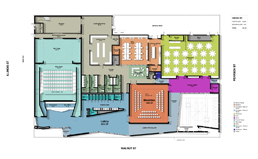 The theater complex will total about 20,000 square feet. Click on image to expand. (Image courtesy Phoenix Theatre)
Construction is expected begin early next year. (Click on image at right for expanded view.)
In January, the Phoenix acquired three parcels of land on North Illinois Street from two different sellers for $1.8 million. Two of those parcels, which total 1 acre, will be used for the new building. The other parcel contains a 48-space parking lot.
Since 1988, the 33-year-old professional theater has staged its productions in the old St. Stephen's Missionary Baptist Church at 749 N. Park Ave., about a block north of Park's intersection with Massachusetts Avenue.
The 109-year-old building has two stages—the 135-seat Livia & Steve Russell Stage on the main level and the 75-seat Frank & Katrina Basile Stage in the basement.
The new building will be three times larger than the old space. Phoenix Theatre Producing Director Bryan Fonseca said the theater needs that room to grow.
"We are so grateful for the support that has seen our attendance grow more than 70 percent in the past seven years, but that also means we need a bigger facility, and we are excited to be adding classroom space," he said in a written statement. "We have seen tremendous support for our capital campaign and are humbled by the generosity of our supporters."
Attendance for Phoenix Theatre productions topped 17,000 for the 2014-15 season, he said.
"Our proposed new home will allow us to present plays concurrently, resulting in the employment of more actors, directors, stage managers, choreographers and designers," Fonseca said. "The new facility also will allow us to offer more training classes to develop the next generation of talent locally to help stem the tide of young theatre artists leaving to seek training and employment elsewhere."
Major donations for the new theater have come from Livia Russell and the late Steve Russell; Frank and Katrina Basile; Christel DeHaan and the Christel DeHaan Family Foundation; The Glick Fund; Dorit and Gerald Paul; and Nancy and Bill Hunt, among others.
Portions of the theater will be named after major donors, including the Livia & Steve Russell Main Stage, the Frank & Katrina Basile Stage 2, and the Christel DeHaan Grand Lobby.
The Phoenix is offering several other naming-rights opportunities for suggested gifts ranging from $100,000 to $4 million.
The Phoenix is one of only a handful of fully professional theaters in central Indiana paying actors, crew, and staff. It focuses on contemporary plays and musicals, and regularly stages regional and world premieres.
The theatre typically produces a total of 10 shows a year on the two stages that run four to five weeks each. It operates on an annual budget of $850,000, of which more than half is generated from productions.
Please enable JavaScript to view this content.